Aadhaar may become only identity card in future, to help curb tax fraud: Jaitley
Aadhaar may become the only identity (ID) card in future, while making it mandatory for filing of income tax returns is necessary to curb tax evasion and frauds, finance minister Arun Jaitley has said.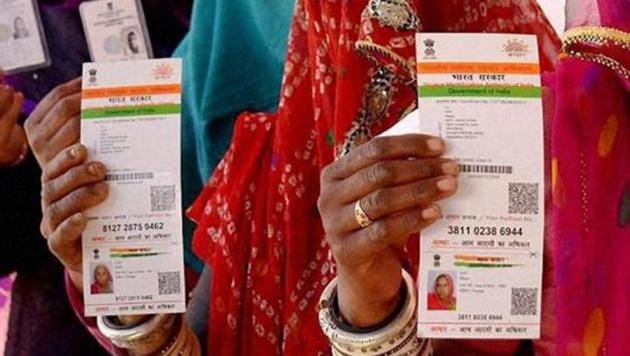 Updated on Apr 26, 2017 11:37 AM IST
Aadhaar might become the sole identity card in the future, finance minister Arun Jaitley said in Parliament on Wednesday, a move that could possibly replace PAN, voter and ration cards.
His remarks came during a debate on the finance bill, which the Lok Sabha passed during the day.
"A stage may come that the unique identity will become the only card," Jaitley said, responding to the Opposition's protest against the government's decision to make Aadhaar mandatory for filing tax returns.
Jaitley defended the move when BJD parliamentarian Bhartruharti Mahtab asked: "So you are forcing the citizen?"
"Yes, we are," the minister replied.
He expressed optimism that tax collections will improve after the goods and services tax (GST) is rolled out, possibly this July. Also, he took a dig at the Congress, saying its traditional voters have abandoned the party for its opposition to the demonetisation drive.
Mahtab alleged that the step to make Aadhaar mandatory for tax returns and to apply for a permanent account number (PAN) goes against the Supreme Court's 2015 judgment. The top court had asked the government not to make Aadhar compulsory for people to get social welfare benefits.
"There are many countries where such a situation exists. There is a social security number in America and in India it (Aadhaar) could be the counterpart," he said.
He affirmed that it was a deliberate step to prevent tax evasion and financial frauds that bleed the economy.
Jaitley argued that already 98% of adults in India have been enrolled in the Aadhaar programme, which generates a 12-digit unique identification number, and more than one billion cards have been distributed.
If a person "furnishes the Aadhar number with the tax returns, it will be clear that it is not a fake PAN. This is because his biometric is linked with Aadhaar," he said.
Aadhaar is already in use for cooking gas subsidy and other government welfare schemes.
The government's rural job programme also extensively uses an Aadhaar-based payment system.
After the government scrapped two high-value banknotes last November in a bid to clean up the economy of illegal cash, Aadhaar-based payments got a bigger push to cover the public distribution system and transactions in shops more extensively.
Countering objections from parties such as the Congress and BJD, Jaitley said biometric details of Aadhaar should be put to better use.
"Its chances of misuse become minimal. When the country has so much technology, and when it is being put to use, then why create such a hue and cry about it? It is an anti-evasion measure which will benefit the country. So the government considers it right to implement it," he said.
When Mohammed Salim of the CPI(M) remarked that if Aadhaar was so useful then why doesn't the government make it an all-purpose card, Jaitley hinted that it could become the sole card in the future.
(With PTI inputs)
Close Story
Personalise your news feed. Follow trending topics