After accusing railway official of assault, German tourist attacked GRP men in UP: Cops
The Uttar Pradesh Police are trying to find out why the tourist was moving around without his passport which was confiscated by the Himachal Pradesh Police more than a year ago.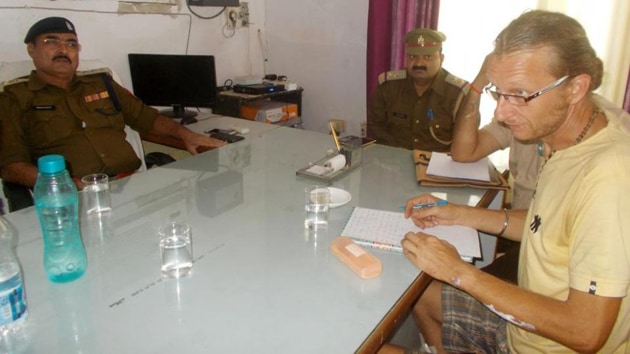 Updated on Nov 05, 2017 10:26 PM IST
A German tourist who was allegedly beaten up by a railway employee at Roberstganj station on Saturday, attacked two policemen who were taking him to the government railway police (GRP) station in Mirzapur later that night, police said on Sunday.
While one of the cops was left with a bleeding nose, the other suffered bruises on his hands. The case has also taken a mysterious turn after it emerged that the tourist Holger Erik's passport was confiscated by the Himachal Pradesh police in Kullu after a brawl in 2016.
Inspector, government railway police (GRP), Samar Bahadur Singh said Erik attacked sub-inspectors Harikesh Ram Azad and Mithilesh Yadav with a cane which he picked up from the road when he was taken to GRP station in Mirzapur, 81 km from Robertsganj.
"After Erik alleged that he was attacked by a railway employee in Robertsganj, the GRP brought him to Mirzapur. After getting off the vehicle, he attacked the policemen and tried to flee," Singh told HT.
The GRP men are clueless on why he attacked them.
"The two policemen went to the government hospital for treatment only after handing Erik to GRP personnel at the police station," he added.
"Since he is a foreign tourist, he is like our guest. Though the policemen were hurt, they decided not to register a case against Erik," he said.
On Sunday, he was taken back to Robertsganj for x-ray of his hand after he complained of pain. Singh said that Erik was handed over to superintendent of police Sonbhadra for further probe.
Earlier on Saturday, the middle aged German had alleged that a railway employee attacked him after he refused to talk to him.
However, the railway employee Aman Kumar refuted Erik's claim and said it was the tourist who slapped him and he only defended himself. Robertsganj is 120 kilometres from Varanasi.
GRP officials said Erik, a resident of Berlin, told them that he reached Robertsganj Friday night and checked into a hotel. He visited the Agori Fort – 35 kilometres from Robertsganj – for research work.
The trouble began on his way back at the Robertsganj railway station.
"I was waiting for a train to Varanasi when a man, who was later identified as railway section engineer Aman Kumar, came to me and asked where I was heading to and if I needed any support. When I didn't respond to Kumar, he manhandled me and slapped me repeatedly," Eric told the police.
Erik claimed he fell on the ground and suffered bruises on his hand. GRP sub-inspector Harikesh Ram Azad, who was the first to reach the spot, rushed the tourist to hospital for treatment and medical examination.
"Erik has filed a complaint against railway employee Aman Kumar alleging that he manhandled him. We will register a case in this connection. Before that, we will seek details about Erik against whom a case was registered by Kullu police in Himachal Pradesh recently," Singh said.
"I came to know about a police case against Erik when I asked him about his passport and visa. Instead of a passport, he produced a document given to him by Kullu police. The document revealed that a case was registered against Erik under Section 324 (voluntarily causing hurt by dangerous weapon) for attacking a person with a blunt object in Kullu on July 5, 2016. Later, the police deposited his passport and visa in the court of chief judicial magistrate in Kullu," he said.
"We are trying to find out as to why Erik was visiting Robertsganj and adjoining areas without a passport and visa. A cross FIR has been registered in the matter under Section 323 (Punishment for voluntarily causing hurt) following complaints by Erik and Kumar," Singh said.
Aman Kumar claimed that the tourist was sitting alone at the station when he approached him and asked him if he needed any help.
"Instead of taking my gesture positively, he started using abusive language and slapped me. I just defended myself. His allegations that I attacked him first are baseless," Kumar said.
Close Story