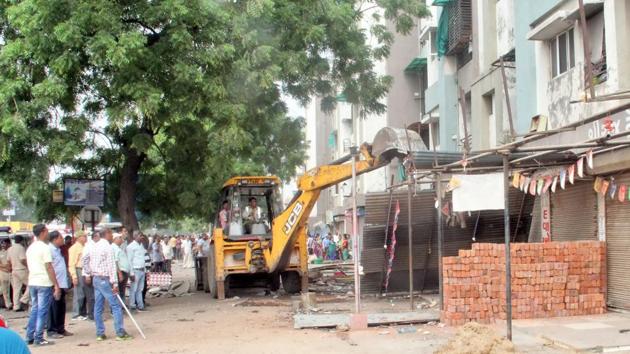 Ahmedabad residents welcome demolition drive, which eases traffic snarls
Hundreds of cars and two-wheelers have been seized for violating parking rules and many illegal restaurants, and several popular street food zones such as those in Law Garden and Kau Gali have been razed
UPDATED ON AUG 11, 2018 11:30 PM IST
Ahmedabad Municipal Corporation (AMC) expected resistance as it deputed teams to pull down illegal constructions obstructing traffic in the city's eastern part on Thursday. It left nothing to chance and arranged a police cover. Far from any resistance, the teams were in for a surprise. The residents offered tea and welcomed the municipal staff out to do their job that would also rid them of the menace of frequent traffic jams.
"We wanted to send across a message that the municipal staff need not arrive with SRP (state reserve police ) personnel. They are welcome here if, finally, they are helping bring an end to the menace of the traffic jams," said Jayaben Patel, a resident.
Over 50,000 sqm or an area equal to almost 10 football fields has been freed of encroachments as part of an ongoing drive.
Historical monuments like Teen Darwaja, Bhadra Fort, Dilli Darwaja, Lal Darwaja, which were instrumental in getting Ahmedabad India's first Heritage City tag, have also been freed of encroachments. A parallel awareness drive, too, has been going on in the financial capital of Gujarat.
Most of the city's 6.3 million residents appear to be happy. Residents launched a social media campaign when reports suggested that municipal commissioner Vijay Nehra and police commissioner AK Singh may be transferred in the wake of the anti-encroachment drive.
"Saving almost 20 minutes one way, from Ashram Road to SG Highway, roads are clearer and wider. Thanks to AMC and city police," tweeted Shaleen Shah, another resident. Ahmedabad municipal commissioner Vijay Nehra re-tweeted Shah's tweet.
The Gujarat high court had pulled up the AMC and police last month for ignoring its order passed in May to address issues of traffic snarls and potholes.
Hundreds of cars and two-wheelers have been seized for violating parking rules and many illegal restaurants, including in several popular street food zones like Law Garden, Khau Gali, have been razed. Restaurants, private schools, hospitals have been asked to make parking arrangements.
"We are going by three elements – engineering, encroachment and awareness. Under engineering, new parking lots have been created and allotted. A mega demolition drive is on to make the city encroachment free while awareness campaigns are being run through various medium," Vijay Nehra said.
The AMC this week allotted 46 new plots for parking. It has been planning to build five multilevel parking lots covering different zones. The AMC has cleared an annual budget of over ₹14 crore to rope in the SRP to ensure that encroachments do not resurface.
The street food owners took out a rally earlier this week and are planning to move the high court against the drive.
"The traditional and age-old food streets and markets will be provided alternate options to make sure that culture and livelihood in the city are not affected,'' Vijay Nehra added
Close