Wreckage of crashed aircraft found in Rajasthan's Bharatpur. What we know so far
Jan 28, 2023 11:36 AM IST
Bharatpur SP Shyam Singh said that the aircraft crashed in an open field in Ucchain police station area.
Wreckage of a crashed aircraft was found in Bharatpur in Rajasthan on Saturday. District Collector Alok Ranjan initially said a chartered plane crashed in the area but defence sources later confirmed that IAF jets had crashed in the vicinity.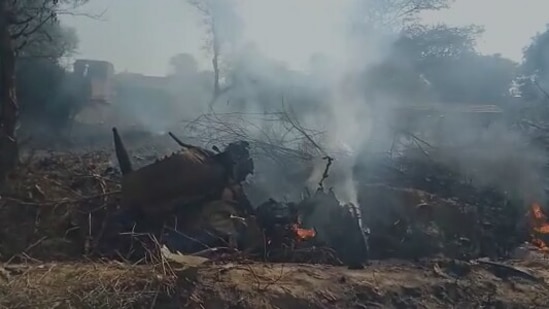 Superintendent of police Shyam Singh said that the aircraft crashed in an open field in Ucchain police station area.
"Received info about a plane crash around 10-10.15 am. After coming here, it was found it was an IAF fighter jet. Going by the debris, we are unable to adjudge if i it is a fighter plane or a regular plane. Yet to know if pilots got out or are still in," ANI quoted Bharatpur DSP as saying.
Two Indian Air Force fighter aircraft crashed in Pahadgarh area of Morena in Madhya Pradesh. Initial reports suggested that Sukhoi-30 and Mirage-3000 were involved in the crash and two of the three pilots are safe while an IAF chopper has rushed to the location of third pilot.
"Two fighter aircraft of IAF were involved in an accident near Gwalior today morning. The aircraft were on routine operational flying training mission," IAF said in a statement.
"One of the three pilots involved, sustained fatal injuries. An inquiry has been ordered to determine the cause of the accident."
It is yet to be confirmed whether the wreckage of aircraft in Bharatpur is related to the IAF jets that crash near Gwalior.
Morena additional superintendent of police Rai Singh Narwariya earlier said, "An air force team is reaching the spot to confirm about the plane and number of people present in it. Police found a hand near the plane."
"Raksha Mantri Shri Rajnath Singh was briefed by the Chief of Air Staff on the crash of two aircraft of the Indian Air Force. Raksha Mantri enquired about the well-being of the IAF pilots and is monitoring the developments closely," Defence sources said.