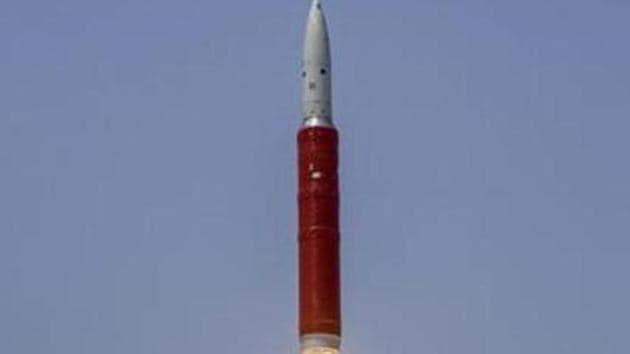 A-SAT debris to decay in a few weeks: DRDO Chief
Criticising India for the tests, NASA had described it as a "terrible, terrible" thing that had endangered the International Space Station (ISS).
UPDATED ON APR 07, 2019 01:16 AM IST
The debris from India's March 27 anti-satellite test poses no danger to the International Space Station (ISS) and other space vehicles and will decay in a few weeks, India's top military scientist said on Saturday, seeking to allay US concerns that the debris may pose a threat to space assets.
Defence Research and Development Organisation (DRDO) chief G Satheesh Reddy said the test, codenamed Mission Shakti, was planned at the lowest possible orbit to ensure there was no threat of debris to any global space asset.
"The chosen orbit was nearly 120 km below the ISS track. A near head-on engagement was planned to reduce the probability of debris going to higher heights," Reddy said in a detailed media briefing on the A-SAT test.
He said the interceptor missile could have killed a satellite at a height of more than 1,000 km but India intentionally chose to demonstrate the capability in a low earth orbit at a range of less than 300 km to avoid the threat of collisions in space due to the debris.
Reddy said the risk from the debris was highest in the first 10 days of the launch, a period that lapsed on Saturday, adding that all of it would be gone in the next 35 days.
The 19-tonne A-SAT missile struck a Microsat-R satellite orbiting 283 km above the earth with pinpoint accuracy, propelling India into an elite space club consisting of the US, Russia and China.
Extensive simulation before the A-SAT test covered all aspects related to debris and ruled out the possibility of it hitting the ISS or other space assets, Reddy stressed.
On Monday, NASA administrator Jim Bridenstine called India's A-SAT test "a terrible, terrible thing," claiming it had left 400 pieces of debris and increased the risk of ISS being hit by 44%. "That is a terrible, terrible thing, to create an event that sends debris into an apogee that goes above the ISS," he said at a town-hall style meeting with employees of the US space agency.
NASA has decided to resume cooperation with its Indian counterpart, Indian Space Research Organisation, reversing a recent decision to suspend it over orbital debris resulting from the March 27 test, as reported by HT on Saturday.
Last week, the state department said it "took note" of the Indian government's statements that the test was designed to address space debris.
"Several statements have come from the US but Washington's position is reflected in the state department statement," said deputy national security adviser Pankaj Saran, who also took questions from journalists at the DRDO briefing.
Prime Minister Narendra Modi has tasked National Security Advisor Ajit Doval with preparing a draft space doctrine to set the protocols for operationalising the new capability, as reported by HT on March 29.
Reddy said that space had acquired great importance in the military sphere and the best way to defend was to have deterrence. "This is a deterrent capability," he said, adding it was possible to strike multiple satellites if multiple launchers were available.
Reddy said there was no need for India to conduct any more tests in the 300-km orbit. He said of the 150-plus scientists who were part of Mission Shakti, around 40 were women. He said the first discussions on the A-SAT weapon testing started in 2014 before detailed presentations were made to the Prime Minister's Office two years later.
The final countdown for the test began in January when the 740-kg Microsat-R was put in space as a target for the interceptor missile. Asked to comment on reports on an allegedly failed test conducted by the DRDO on February 12, Reddy clarified that it was a ballistic missile test against an electronic target and such testing had been done regularly under Mission Shakti.
On Congress leader P Chidambaram's accusation last week that only a "foolish government" would announce such secret capabilities, Reddy said such testing can't be kept under the wraps as the satellite was tracked by several stations across the world. Asked if the government had sought the Election Commission's permission for Saturday's media briefing, a government spokesperson replied in the affirmative.
Close