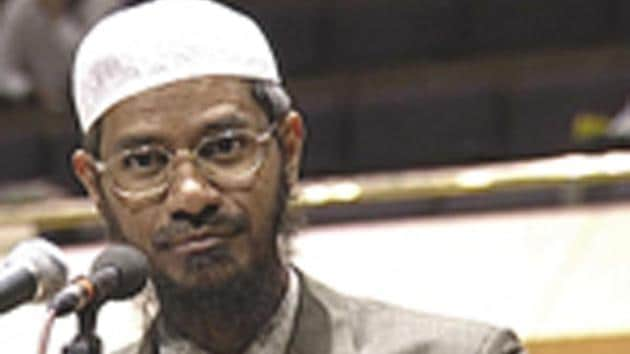 Allahabad HC dismisses Zakir Naik's petition challenging non-bailable warrant
One Mudassir Ullah Khan had filed a complaint on Jan 9, 2008, alleging Naik had hurt sentiments of a community in a TV programme. He said the religious leader distributed a pamphlet to incite hatred among communities.
Hindustan Times, Allahabad | By Jitendra Sarin, Allahabad
UPDATED ON APR 11, 2018 07:48 PM IST
The Allahabad high court on Wednesday dismissed a petition filed by Islamic preacher Zakir Naik challenging the 2010 order of a local court in Jhansi, which summoned him on several charges, including waging war against the state, and the subsequent order of a non-bailable warrant against him.
The interim order earlier granted in his favour now stands vacated with the dismissal of the petition.
Justice Amar Singh Chauhan had reserved the judgement on March 28, 2018, on the petition filed by Naik, president of Islamic Research Foundation.
A person called Mudassir Ullah Khan had filed a complaint on January 9, 2008, before the chief judicial magistrate X in Jhansi alleging that Naik had allegedly hurt the religious sentiments of a particular community in a television programme telecast on January 21, 2006.
Khan said that Naik had published and distributed a pamphlet to incite hatred and ill will among different communities.
The judicial magistrate summoned Naik on April 30, 2010, before the court for waging war against the state and other sections of Indian Penal Code and issued a non-bailable warrant against him. A person can be punished with death or life imprisonment for waging a war against the government of India or attempting to wage such war or abetting it.
Naik's plea was that he is president of an organisation that clarifies Islamic viewpoints and clears misconceptions about Islam and the allegations against him were baseless.
The high court had on June 6, 2011, directed that till the next date of listing no coercive action should be taken against Naik following the April 30, 2010, order by the judicial magistrate.
And, the Bombay high court on Monday refused to restore his passport, saying no relief can be granted to a proclaimed offender absconding from India. The court adjourned the petition by two weeks on his lawyer's request.
Naik landed in trouble when reports emerged that terrorists who attacked the Holey Artisan Bakery in Dhaka, Bangladesh, killing 20 foreigners on July 1, 2016, were his followers. The 51-year-old has denied the charges and claimed that he never incited communal disharmony and "his lectures are doctored".
The Union ministry of home affairs banned Naik's Islamic Research Foundation and Peace TV. The National Investigation Agency booked him under sections 153A of the IPC and sections 10, 13 and 18 of the Unlawful Activities (Prevention) Act, 1967.
Close