Amid Meghalaya violence, protesters burn effigies of Amit Shah, CM Conrad Sangma: Report
Nov 26, 2022 10:23 PM IST
Videos and images doing rounds on social media showed protesters gathered outside the Meghalaya CM Sangma's residence in Shillong, burning his effigy, along with that of Amit Shah and state home minister Lahkmen Rymbui.
Amid the ongoing border violence in Meghalaya, demonstrators gathered in capital city Shillong on Saturday to protest against the killing of six people in the disputed area of Mukroh village along the state's border with Assam. Protesters, belonging to various social organisations, reportedly gheraoed Meghalaya chief minister Conrad K Sangma's residence at Polo Hills and burnt his effigies, along with that of Union home minister Amit Shah, and others.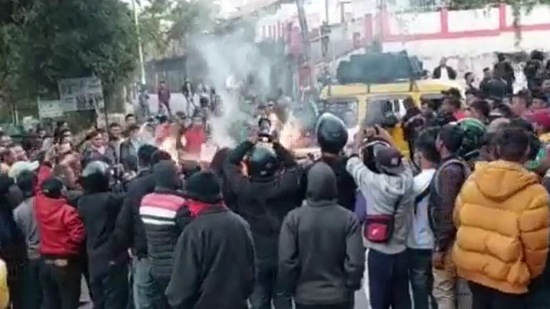 Local reports said the protesters belonged to five organisations – the Hynniewtrep Youth Council (HYC), East Jaintia National Council (EJNC), Jaintia Students' Movement (JSM), Hynniewtrep Achik National Movement (HANM) and the Confederation of Ri Bhoi People (CoRP).
A police official told news agency PTI that the protesters got involved in a scuffle with the cops in front of the Sangma's bungalow after the police refused to let them hold the demonstration there. He clarified that they were permitted to organise the protest in a nearby place.
Videos and images doing rounds on social media – Hindustan Times could not independently verify – showed hundreds gathered outside the CM's residence in Shillong, burning effigies of Sangma, Shah as well as state home minister Lahkmen Rymbui.
Pressure groups called a non-cooperation movement on Friday protesting the border dispute. Earlier in the day, the Hynniewtrep Integrated Territorial Organisation (HITO) observed 'Red Flag Day' on the premises of U Soso Tham Auditorium in the city and invited people to attend a 'Red Flag' rally.
On Thursday, miscreants reportedly torched a traffic booth and attacked three police vehicles, including a city bus, in Shillong. The protesters reportedly hurled stones and petrol bombs at police forces deployed to calm tensions. Security personnel resorted to firing tear gas shells to disperse the protesters and enforce the order.
The incident comes three days after the killing of six people in Mukroh village, the situation along the Assam-Meghalaya border remained tense on Saturday but "under control" with security forces ensuring no further flare-ups, officials said.
Prohibitory orders under Section 144 of CrPC remained imposed in the disputed area amidst heavy deployment of security forces.