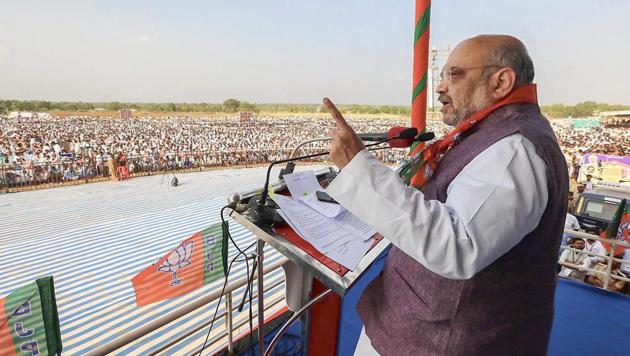 Amit Shah slams oppn parties for backing Bharat Bandh, says BJP all for reservations
The BJP president alleged that anti-social elements were spreading rumours on the social media that the saffron party wants to end the quota system.
Hindustan Times, Bhubaneswar | By Debabrata Mohanty
UPDATED ON APR 04, 2018 08:12 PM IST
BJP president Amit Shah on Wednesday slammed the Congress and other opposition parties for backing the Bharat Bandh, alleging that false reports of the saffron party planning to end reservation were being circulated on the social media.
Shah, who has launched a two-day tour of Odisha, said at a public meeting in Kalahandi district that nobody has the audacity to change the provisions for reservation in the Constitution written by Babasaheb Ambedkar. "The BJP will not allow this either. Our party will neither end reservation nor let anybody end it," he said.
The BJP chief wondered why the Congress and other parties called for the Bharat Bandh when the Centre had announced that it would file a review petition in the Supreme Court. "The opposition parties are responsible for the death of 10 people during the protest," he said.
The Bharat Bandh was held on Monday to protest the alleged "dilution" of the SC/ST Act by the Supreme Court.
Shah then went on to criticise the Naveen Patnaik government, alleging that it had failed to ensure development despite the Centre providing Rs 45,000 crore in funds to Odisha. "At least 8.40 lakh children are suffering from malnutrition despite aid sent by the central government. Around 50 lakh people in Odisha are residing in kuccha (makeshift) houses. Those 50 lakh people are asking why they did not get pucca (sturdy) houses. Even today, 36% households in Odisha don't have electricity," he said, claiming that Odisha will witness all-round development if it votes the BJP to power.
Shah said the Narendra Modi government at the Centre will provide pucca houses to everybody in the state by 2022. "Every household in Odisha will benefit from electricity connectivity under the Saubhagya Yojana before 2021," he said, adding that his party – if elected – will also ensure pure drinking water to all the villages in the state within five years.
Close