Uttarakhand HC declares animal kingdom a legal entity with rights of a 'living person'
Updated on Jul 05, 2018 03:06 PM IST
The Uttarakhand high court declared the entire animal kingdom as a legal entity, which means animals can be represented by a custodian.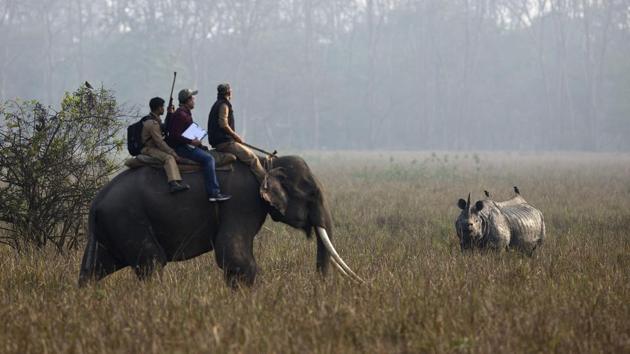 The Uttarakhand high court on Wednesday declared the entire animal kingdom, including birds and aquatic animals, as a legal entity having rights of a "living person", a year after according similar right to Ganga and Yamuna that was subsequently stayed by the Supreme Court.
A division bench of justices Rajiv Sharma and Lok Pal Singh said that in the past, various courts have given similar rights to corporations, Hindu gods, holy scriptures and rivers and in order to ensure the greater good and that to ensure the "greater welfare" of animals they need to be conferred with the status of "legal entity/legal person".
They can't be treated merely as "property", the bench added.
Uttarakhand's acting chief wildlife warden, Rajeev Bhartari, said he cannot comment on the judgment till he examines it. Principal chief conservator of forest (PCCF) Jai Raj welcomed it.
Explaining what a legal entity means, the HC said, "The entity acts like a natural person but only through a designated person, whose acts are processed within the ambit of law". This means the animal kingdom could be represented by a custodian.
Invoking Article 21 of the Constitution, the court said: "Article 21 of the Constitution, while safeguarding the rights of humans, protects life and the word 'life' means animal world". The court cited a 2014 Supreme Court judgment to say any disturbance from the "basic environment which includes all forms of life, including animals life, which are necessary for human life, fall within the meaning of Article 21 of the Constitution".
While issuing a slew of directions to the state government for protecting animals, including creating a animal welfare committee in every district of the state, the court also declared all citizens of Uttarakhand "persons in loco parentis" (in the place of a parent) giving them the responsibility to protect animals and ensure their welfare.
Welcoming the judgment, Gauri Maulekhi, executive member of Society for the Prevention of Cruelty to Animals (SPCA), Dehradun, said: "This order will go a long way in building a compassionate society as it was illogical to treat sentient creatures as inanimate objects."
The order came in response to a public interest litigation seeking directions to restrict the movement of horse carts/tongas between Nepal and India through Champawat district and highlighted that ailing, infirm and old horses were being abandoned by the owners in the Indian territory.
The high court in March last year accorded the status of "living entity" to the Ganga and Yamuna rivers , a decision subsequently stayed by the Supreme Court.
Close Story
Personalise your news feed. Follow trending topics