Hope no Kejriwals emerge out of my March 23 movement next year: Anna Hazare
Hazare accused both Congress and BJP of diluting the Jan Lokpal Bill and favouring industrialists while ignoring farmers.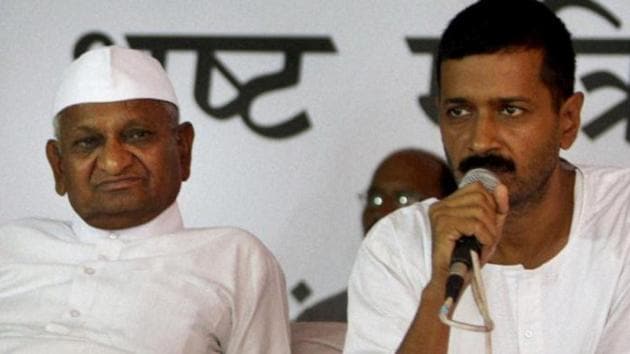 Updated on Dec 13, 2017 01:12 PM IST
Social activist Anna Hazare hopes no more Arvind Kejriwals emerge out of his upcoming March 23 movement in Delhi, where he will raise issues related to non-appointment of Lokpal, the anti-corruption ombudsman, electoral reforms and farmers' plight in the country.
Addressing a meeting at the Shahid Smarak (freedom martyrs' memorial) in Agra on Tuesday, he exhorted farmers to attend his movement in large numbers, but said participants would have to sign affidavits promising not to join any political party or start one.
"I no longer have any relationship with Arvind Kejriwal. I hope no Kejriwal comes out of my movement again," Hazare told reporters after the meeting.
Hazare and Kejriwal had led a massive movement across the country in 2011 against corruption and forced then UPA-led government to bring the Jan Lokpal Act.
However, the two separated ways in late 2012 after Kejriwal went on to form a political party, the Aam Aadmi Party (AAP), which is now in power in Delhi state with Kejriwal as the chief minister.
Hazare was apparently unhappy over the formation of a party out of his movement. He said he was not aware what the AAP leader had in mind while being part of the anti-corruption agitation in 2011.
The activist had also refused to accept the survey done by India Against Corruption which overwhelmingly favoured a political path and had said that he did not agree with the exercise done through social networking sites.
'Congress, BJP Diluted Original Lokpal Bill'
The Lokpal and Lokayuktas Act was passed with amendments in 2013, but the ombudsman is yet to be appointed.
Hazare said the amendments diluted the original bill and blamed both BJP and Congress for this.
"The (Narendra) Modi government later diluted the provisions of the Jan Lokpal Bill. Both the Congress and the BJP are guilty (of this)," the 80-year-old social activist said.
Lamenting that democracy in its true sense was yet to happen in India even after 70 years of independence, Hazare said his agitation at Ramlila ground in Delhi will press for electoral reforms and the appointment of Lokpal.
"We do not want a government of capitalists. No Modi, no Rahul (Gandhi). We want a government which works for farmers' interests," he said, adding that they both favour industrialists and are not committed to weeding out corruption.
'Demonetisation Failed,Corruption Continues'
According to him, last year's demonetisation move failed to weed out corruption as no black money was exposed and complaints of corrupt practices continued.
"Demonetisation was aimed at exposing black money, but no results were attained and complaints of corruption continue to surface," he stated. Disgruntled by the political system, Anna Hazare said politics could not ensure bright future for the youths.
"I am not against democratic procedure, but elections should be conducted in the true spirit of the Constitution and leaders should come from common public. We have attained independence and got rid of the British, but people of the nation are still awaiting democracy in true sense," Hazare said.
(With PTI inputs)
Close Story
Personalise your news feed. Follow trending topics