Anti-incumbency in Madhya Pradesh double than Rajasthan, says Congress' data analytics unit head
Praveen Chakravarty, chairman of the Congress' newly constituted data analytics department, speaks about the party's efforts in the poll-bound states of Madhya Pradesh, Rajasthan and others.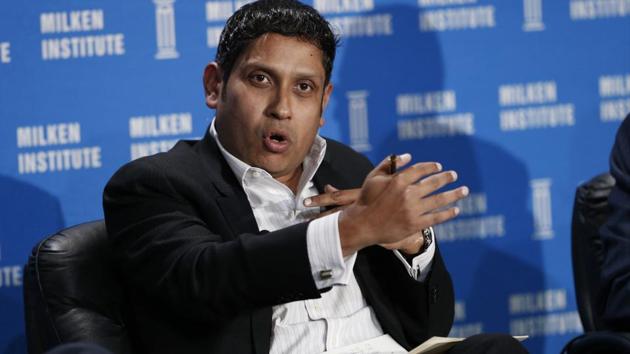 Updated on Nov 05, 2018 08:55 AM IST
The Congress appointed Praveen Chakravarty as the chairman of its newly constituted data analytics department this February. In an interview with Roshan Kishore, he talks about the role of the department in the party's functioning; especially in context of the forthcoming assembly elections in Rajasthan, Madhya Pradesh, Chhattisgarh, Telangana and Mizoram. His department's internal survey shows anti-incumbency in Madhya Pradesh is double than that of Rajasthan. Data analysis also played an important role in the (unsuccessful) alliance negotiations with the Bahujan Samaj Party (BSP) in Madhya Pradesh. Edited excerpts:
This is the first big set of elections for Congress after the data analytics wing came into being. What difference has it brought to the functioning of the party?
The focus of our effort is to help the party evolve a much better ground game at the booth level. Rajasthan and Madhya Pradesh can be seen as 200- and 230-seat assembly elections, or 50,000 and 60,000 booth-level elections. Ours is the latter approach. We launched Project SHAKTI — creating a database of booth-level Congress workers/sympathisers by their voter-card numbers — in April this year. This has been described as a much needed MRI for the party by the Congress president. The attempt is to cater to natural human incentives: aspiration for recognition and reward. The party assigns tasks to persons on the SHAKTI database and a SHAKTI points system is in place to objectively measure performance. Winners get tangible rewards like appointment in bodies such as block level committees of the party. The top three performers in states were given certificates by the Congress president. In a political system, this is a big incentive.
While such initiatives are a useful way to keep the party on the same page vis-à-vis the views of grassroots workers, such an empiricist approach can also dilute the party's larger politics. For example, the Congress in Kerala is opposing the entry of women in Sabarimala temple. This is not in keeping with liberal values.
You're right. That is why I insist that what such initiatives basically provide are a lot more views and opinions than just a few people sitting in a room to make political decisions. But data is not the sole determinant of any political decision. It's just one more seat on the table where people with different political opinions and experiences are sitting to decide on something. But we also have to acknowledge that at least now the view of the cadre is being taken into account, which sometimes brings things which the leadership might have overlooked. For example, we have collected 400,000 responses on candidate selections in just Rajasthan and Chhattisgarh. We collected 100,000 respons- es before going for an alliance with the Telagu Desam Party in Telangana.
Has the party conducted surveys in the poll-bound states? What do they show?
Yes, we continuously run large polls using a fairly scientific polling engine within the party. I can tell you what the data is telling me, and this is not my individual view. While everybody understands that the anti-incumbency against the BJP government in Rajasthan is very high, what is surprising is anti-incumbency — share of respondents who do not want the government to be re-elected — in Madhya Pradesh is two times higher. The angst in Madhya Pradesh is the highest among youth, and specific communities largely within the other backward classes (OBCs).
The Congress was trying to build an alliance with the BSP in Madhya Pradesh and Chhattisgarh. But these efforts did not succeed. Did your department give inputs for the negotiations on behalf of the Congress party?
Yes, we were closely involved in doing some of the analysis. The pros and cons of an alliance depend on more factors than just adding up headline vote-share numbers. In our model, we look at two key parameters: core vote share for each party at the constituency level and transferability tests to see whose votes can be transferred to another party. For example, our model could exactly predict that when Uma Bharti split from the BJP and formed her own party in the 2008 Madhya Pradesh elections, 90% of her votes were transferrable to the BJP. Because we follow- ed this approach, we had a very clear sense of where the Congress and BSP votes would have transferred to each other and where they may not have transferred. I think there was a very earnest attempt by the Congress to build an alliance with the BSP. I don't think it was only about the number of seats, but also about which seats should be shared. The whole point about having an alliance is that it should do better and win more seats than parties contesting alone. This was our key parameter in the negotiations.
Your main political adversary, the BJP, is galvanised around Prime Minister Narendra Modi's leadership. In contrast, the Congress is still hesitant about announcing Rahul Gandhi as the prime ministerial candidate or even naming chief ministerial candidates in states such as Rajasthan and Madhya Pradesh. What bearing does this have on the party-cadre? Has SHAKTI given you some insights on this issue?
There are two ways to look at this question: effect on voter preferences and effect on the party cadre. Naming of some leader has never been a big tradition in the Congress party, except in specific cases. As a data scientist, I do not accept the assumption that naming a leader has a big impact on voter choices. Neither do I think that it should be seen as a strategic weakness for the Congress party.
Close Story
Personalise your news feed. Follow trending topics