'Appalled': Australian envoy on attack by Khalistan elements on pro-India groups
Jan 30, 2023 08:26 PM IST
Indian high commissioner Manpreet Vohra also took up the violent incidents in central Melbourne on Sunday with the premier of Victoria state, Daniel Andrews, at a meeting on Monday
NEW DELHI: India on Monday lodged a protest with Australian authorities over attacks by Khalistani activists on people of Indian origin who were protesting against a so-called "Khalistan referendum" organised by the outlawed Sikhs For Justice (SFJ) over the weekend.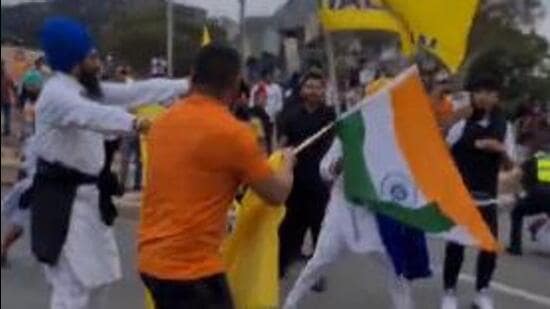 Indian high commissioner Manpreet Vohra took up the violent incidents in central Melbourne on Sunday with the premier of Victoria state, Daniel Andrews, at a meeting on Monday. In New Delhi, Australian high commissioner Barry O'Farrell said he was "appalled" by the incidents and that Victoria police are investigating a number of people for "criminal acts of violence".
Scuffles between Khalistani activists and pro-India groups occurred at Federation Square in Melbourne on Sunday afternoon amid the non-binding referendum on creating an "independent Khalistan", which has already been denounced by India. SFJ organised the referendum in Australia after similar polls in Canada, the US and the UK.
Police used pepper spray to separate the two groups and a Victoria Police spokesperson said two men were arrested. Two men also sustained minor injuries in the scuffles, the spokesperson said. Footage on social media showed Khalistani activists attacking people waving the Indian flag with flag poles.
Vohra tweeted that he met the premier of Victoria state, Daniel Andrews, and discussed "the violence in Melbourne" on Sunday and "how to stop extremist Khalistani groups engaging in further activities prejudicial to peace and harmony". He said he also discussed "our strong and growing bilateral relationship".
There was no official word from the external affairs ministry on the events though people familiar with the matter said a protest was made to the Australian side.
Referring to the incidents, Australian envoy O'Farrell said: "Like the premier of Victoria, I am appalled at the incidents in Federation Square in Melbourne. The state police were on site and they responded quickly and are investigating a number of people for criminal acts of violence that occurred."
O'Farrell said Australia is a country where "the right to protest and to demonstrate is respected but the moment it turns violent, it is unacceptable".
He added, "I am disappointed by the actions of a few, who have for the first time blemished the outstanding reputation of the Indian diaspora, which has only brought productivity, light, understanding and close relations between Australia and India."
The "unofficial poll" was part of a "private activity that has no legal standing", and such an "unclear poll in any country cannot affect something either in that country or in a sovereign nation like India", O'Farrell said.
"But what disturbs me is that I pride myself in saying that I come from a country that is one of the most successful multi-cultural, multi-faith countries in the world, where there is little communal violence, where communal violence, hate speech, bigotry are outlawed and detested. And yet yesterday we saw regrettably from Australians of Indian-origin, attacks on people who were simply making their own point. As other have said, that's when the right to protest becomes unacceptable," he said.
Vohra also visited the ISKCON Krishna Temple and BAPS Shri Swaminarayan Mandir in Melbourne and discussed the "peaceful community's concerns over recent attack by vandals, and the disturbing violence" in Melbourne, he said in tweets. He said the ISKCON Krishna Temple was "vandalised recently by pro-Khalistani elements", whose "hate-filled grafitti was threatening to the peaceful Indian-Australian community in Melbourne and must be stopped".
The Indian high commission in Canberra recently condemned the vandalisation of three temples in Melbourne as incidents aimed at sowing hatred and divisions within the Indian-Australian community.
"Signals that pro-Khalistan elements are stepping up their activities in Australia, actively aided and abetted by members of the proscribed terrorist organisations such as the Sikhs For Justice (SFJ) and other inimical agencies from outside Australia, have been evident for some time," the mission said in a statement on January 26. The Indian side also conveyed its concerns about SFJ's efforts to organise the referendum in Melbourne and Sydney, the statement added.