Arbaaz Khan admits lost
₹

2.8 crore as IPL betting probe widens

Updated on Jun 02, 2018 11:22 PM IST
Actor Salman Khan's brother, Arbaaz Khan, arrived at the Thane anti-extortion cell office on Saturday morning to record his statement in connection with the alleged multi-crore betting racket after being summoned.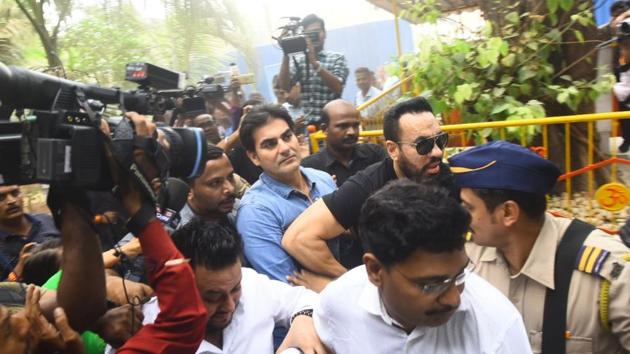 An investigation into the Indian Premier League betting case involving Arbaaz Khan appeared to widen on Saturday, with police saying two film producers could be questioned after the interrogation of the actor who, they said, admitted to betting in the T20 format and losing ₹2.83 crore.
Khan, summoned by the Thane Anti Extortion Cell, was confronted with bookie Sonu Jalan, who was arrested along with five others last month in the probe related to betting of hundreds of crores of rupees over the past five years, a police official said on condition of anonymity.
During the four-hour questioning, names of film producers Parag Sanghvi and Murad Khetani came up, according to Pradeep Sharma, senior police inspector of the Thane Anti Extortion Cell. Sanghvi has produced movies including Sarkar, Partner and Attack of 26/11. "After the two were questioned, names of more big bookies have tumbled out," another officer said, without revealing any name. Text messages sent to the producers remained unanswered as of press time.
"Khan admitted to betting and said that he had been betting in cricket matches for the past several years," said deputy commissioner of police, Thane Crime, Abhishek Trimukhe.
Jalan had earlier told the police that a Bollywood producer, who is the CEO of a film production-distribution company based in Mumbai, was his "partner" in the betting racket.
"Last year, Khan placed a bet and lost ₹2.83 crore. When Jalan asked for the money, Khan said he cannot pay him. Jalan had also threatened him after that," said Sharma.
Days after Jalan was arrested, the Thane Anti Extortion Cell found a diary with phone numbers of more than 100 cricket bookies, two police officials said. The book was said to mention names of contractors, builders and people who work in the share markets.
"Jalan had arranged a match-fixing meeting at Dubai. The celebrity was also present at that time. We are probing to know which match was fixed and who all were involved," Sharma had said on Friday, without naming anyone.
The investigations come after a 2013 spot-fixing scandal led to IPL teams Chennai Super Kings and Rajasthan Royals being suspended for two seasons and S Sreesanth, a Rajasthan Royals bowler, receiving a life ban along with teammates Ankit Chavan and Ajit Chandila. Several bookies were also arrested as part of the probe.
On Saturday, Khan was escorted by Shera, his brother Salman Khan's bodyguard, as he reached the Thane Anti Extortion Cell office. Even as Khan and Jalan were being questioned, the police seized a machine used in the betting racket.
"When Jalan told us about possessing a line-holding machine, which is used to take several bets at the same time for on-going matches, a team was sent to his house in Malad, Mumbai. The machine have several phones connected to charger and earphones…," said police inspector Rajkumar Kothmire.
At about 4.30pm, when Khan emerged from the building where he was being question, Khan said: "I am cooperating with the investigation. Whatever the police ask, I will give all information."
(With inputs from agencies)