Kerala assembly kicks off cattle debate with beef fry breakfast
Chief Minister Pinarayi Vijayan said the regulation has badly affected the people, and almost five lakh people, directory or indirectly involved in cattle trade, will become jobless.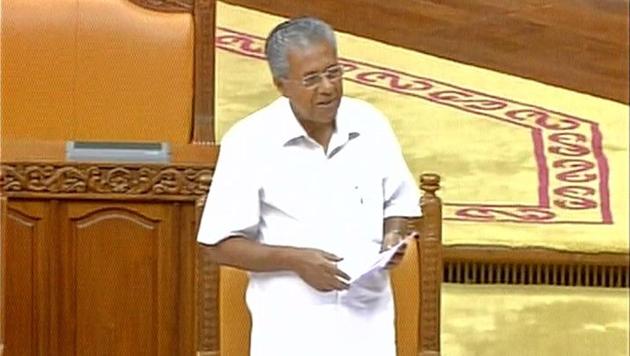 Updated on Jun 11, 2017 09:38 PM IST
A special session of the Kerala assembly began on Thursday with a sumptuous breakfast that included beef fry.
The special session later passed a resolution criticising the Union government's recent notification regulating the sale of cattle in the open market.
Calling it "anti-federal" and "anti-people", the resolution said it was aimed at curtailing people's right to eat what they want.
Except O Rajagopal, the lone member of the BJP, all legislators supported the resolution introduced by chief minister Pinarayi Vijayan.
Vijayan said the new regulation has badly affected the people of the state and almost five lakh people, who were directory or indirectly involved in cattle trade, will become jobless.
The chief minister said cattle upkeep and slaughter came under the purview of the states and the Centre has no right to dictate terms.
An employee of the assembly canteen said that on normal working days when the house is in session, beef is served only after 11am.
"But today, with the session wholly devoted to discussing the beef issue, we brought 10kg of beef early in the morning. By now, a good number of MLAs have already had beef fry before heading to the assembly floor," said the employee.
"Devikulam CPI-M legislator S Rajendran was the first to be served steaming hot beef fry," the canteen attendant said.
Chief minister Pinarayi Vijayan said the new rule "is nothing but a blatant violation on the rights of individuals to eat what they wish and want. This new rule will hugely affect the agrarian society of our state and also our country".
"To take care of a cow that has stopped giving milk, a farmer has to spend Rs 40,000. A huge majority of our society are non-vegetarians and this new law is in no way acceptable to us," the chief minister added.
"The new notification is an attempt to encroach into a subject upon which the Parliament has no right to frame a law," the chief minister said, urging the Centre to withdraw the new regulation immediately.
Kerala is the first state to oppose the new regulation and it is planning to convene a meeting of all chief ministers to discuss the issue.
The new rules also banned the sale of cattle through market. With 15 lakh cattle being brought from neighbouring states, Kerala fears the new regulation will hit people hard. The state consumes around 2.50 lakh tonnes of beef worth Rs 6,500 crore every year.
Former chief minister VS Achuthanandan also slammed the Bharatiya Janata Party-Rashtriya Swayamsevak Sangh (BJP-RSS) combine for the "senseless" new law on beef.
"This is nothing but a fraud. It has been supported by fraud swamis for various reasons best known to them. The BJP has an agenda to castrate certain rules," Achuthanandan said.
"The need of the hour is we should encourage people to produce value added beef, through which we can earn precious export earnings. The BJP is trying to bring in corporate houses to engage in this business and in no way can we allow our people to suffer," Achuthanandan said.
"This law should be circumvented by our own new law on this," added Achuthanandan.
Former Kerala Minister and senior Congress leader Thiruvanchoor Radhakrishnan said what many fails to realise was that the BJP-RSS combine have vested agenda in bringing this new law.
"What has come to light is that major beef exporting companies in our country are based in north India and some of them are lawmakers of the BJP. This new rule is helping them to continue to increase their business. This cannot be accepted in any manner," said Radhakrishnan.
Former Kerala Minister and senior CPI leader Mulakara Ratnakaran pointed out that the BJP-RSS combine have a huge support from around thousands of "godmen", who will instantly support any such move by the BJP government.
"They support this government and their strange new radical laws because the BJP government is supporting such godmen in various ways. So it's a give and take strategy being adopted to push this specific agenda," said Ratnakaran.
There are 140 members in the Kerala assembly. However, a unanimous resolution against the new central law will not be possible as lone BJP MLA O.Rajagopal will approve the new cattle trade rule.
(With inputs from IANS)
Close Story
Personalise your news feed. Follow trending topics