CJI Ranjan Gogoi rejects sexual misconduct charges, says 'judiciary under threat'
Hindustan Times, New Delhi |
Ashok Bagriya
Apr 20, 2019 11:40 PM IST
During the course of the hearing, Chief Justice Ranjan Gogoi spoke his heart out in the court room and said that the judiciary is under tremendous threat today.
Chief Justice of India Ranjan Gogoi responded to charges of sexual harassment levelled against him by a former staffer in his office by convening an urgent hearing of the matter in the Supreme Court on Saturday by a three-judge bench headed by him, and spoke for 18 minutes defending himself.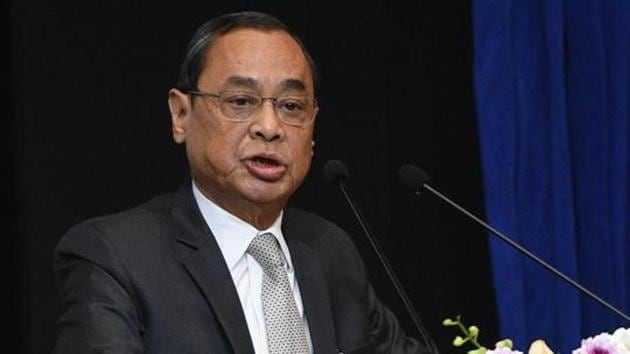 A visibly emotional Gogoi said the charges — unprecedented in so far as they have been levelled against the top judge of the highest court in the land — were an attempt by a bigger force to "deactivate the office of the Chief Justice of India because sensitive matters are being heard by the court next week".
The court has taken suo motu (a Latin phrase meaning on its own motion) cognisance of the matter, and it will now be heard by the two other judges who heard the issue on Saturday, justices Arun Mishra and Sanjiv Khanna.
The order issued on Saturday also advised the media to exercise restraint in its coverage of the case; it was signed only by Mishra and Khanna and not by CJI Gogoi, indicating he had technically recused himself from the case. It wasn't immediately known when the matter will be heard next.
"There is a bigger force behind this. They want to deactivate the office of the Chief Justice of India because I am hearing sensitive matters next week. Independence of judiciary is under very serious threat, it is pathetic," said Gogoi during the hearing that lasted 23 minutes.
He added that he will "continue to act without fear and decide whatever cases I have to decide. Nobody can stop me."
Opinion was divided on the CJI's reaction.
Senior advocate Sanjay Hegde said: "Judges speak only through their judgment, when there is an attack on a judge of this nature, there was no other recourse except to answer from the bench itself. The CJI has made his personal position clear by denying all the allegations. Thereafter, he has left it to the institution to take a call and give an institutional response. "
SN Singh, former dean of the law faculty at Delhi University, added: " Every time an allegation of sexual harassment is made against a judge, they say judiciary is in danger. How is the independence of judiciary in danger? The CJI should go on leave and an inquiry must be made in the matter."
On Friday, April 19, a former woman staffer associated with the office of the CJI, wrote to 22 Supreme Court judges that "there has been sexual harassment and consequent victimization of the woman and her family" by the CJI, according to the letter.
The letter from the woman refers to incidents that allegedly took place in his home office, where she was posted for some time.
It mentions efforts to allegedly target her family, including her husband, a head constable in Delhi Police, who has been suspended, and a brother-in-law who was first appointed to a job in the Supreme Court under the CJI's discretionary quota and then removed a few months later.It adds that she herself was shuffled around various departments and subsequently fired.
Hindustan Times has seen her letter but cannot authenticate any of the allegations made in it.
CJI Gogoi said in court on Saturday that the former staffer, who made allegations against him, has "a criminal background and has two FIRs against her". FIR is short for first information report.
The hearing began with the CJI summarising the allegations made against him in the letter (which also has a sworn undertaking), and also published on Saturday morning in four online publications.
He said: "I received communication from four online publications, Caravan, Leaflet, Scroll and Wire wanting to know of my response on the allegations. They gave me less than 12 hours to respond. A response was sent to these publications by the Secretary General denying the allegations."
Rebutting the allegations, the CJI said, "I will not stoop low even to deny this allegation. What troubles me is that after 20 years in judiciary I have a bank balance of ₹6 lakh, 80 thousand and ₹40 lakh in provident fund. When I was an advocate I had more. No one can catch me on money. They have to look for something else. Even my peon has more money than me."
Brushing aside the allegations, he added: "This employee was in my home office for a month-and-a-half. The allegation pertains to an incident on October 11 and 12, 2018, when my personal private secretary made a report of inappropriate behaviour by the staff(er) and forwarded it to the registry. Thereafter she was removed from my office. At some point of time, unsolicited phone calls were received from the husband of the lady seeking help from the CJI to put her back into service, which were reported to the Delhi Police."
"The lady has a criminal background. There are two FIRs against her. One was against her when she entered service under section 324 (Voluntarily causing hurt by dangerous weapons or means) and 506 (criminal intimidation). The other FIR was lodged in Feburary/ March this year for negotiating a deal for employment in the Supreme Court for a person for which she took ₹50,000 against a claim of ₹10 lakh. She was arrested in this FIR and was in custody for four days. After her release she has been threatening the complainant in the case and the police have moved an application seeking cancellation of bail of the lady and the hearing in the matter is today in the Patiala House court. Two cases are pending against her husband and her brother-in-law also," observed CJI Gogoi.
An application for cancellation of bail of the former staffer says that she was arrested on March 10, sent to judicial custody on March 11 and released on bail on March 12.
CJI Gogoi has seven more moths of service left and retires on November 17, 2019.
After the hearing, the bench refrained from passing any judicial orders but said, "We leave it to the wisdom of the media to show restraint, act responsibly as is expected from them and accordingly decide what should or should not be published as wild and scandalous allegations undermine and irreparably damage the reputation and negate independence of the judiciary. We would, therefore, at this juncture leave it to the media to take off such material which is undesirable."