Bihar BJP to adopt UP model to wean away Muslims from GA
The party is hoping to attract Muslims in Bihar by articulating for the benefit of women and poor sections of the community how they stood to benefit from PM Narendra Modi's welfare schemes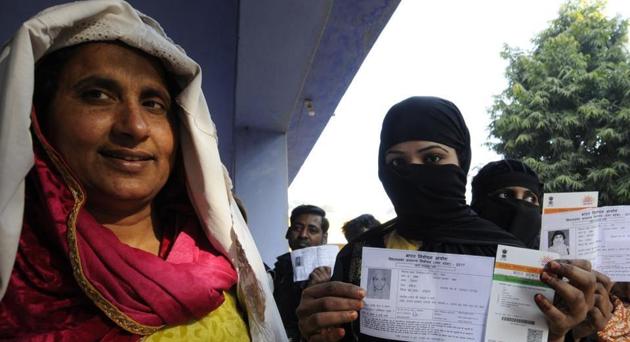 Published on Mar 18, 2017 08:15 PM IST
Following the party's landslide victory in the assembly elections in Uttar Pradesh, where Muslims have a significant presence, the Bihar unit of the BJP is working on a strategy to attract a large chunk of Muslims by focusing on progressive women and poor members of the community.
Keeping in view the 2019 Lok Sabha elections, the saffron party in the state claimed to have put in place advance planning to reach out to Muslims, particularly women and the poor with progressive ideas.
During the November 2015 Bihar assembly elections, in which the BJP could win just 53 out of total 243 seats, to 178 won by the RJD-JD (U)-Congress 'grand alliance', Muslims were believed to have voted largely for the GA.
Revealing the party's new strategy, Bihar BJP president Nityanand Rai told HT on Saturday, "We will follow our party's UP model, which largely succeeded in weaning away 'progressive' women and poor people of the community from the BSP and the SP-Congress combine."
Claiming that these two segments of the community backed the party in UP polls, Rai expressed hope that the BJP would receive similar response from them in Bihar during the Lok Sabha elections in 2019.
"Our volunteers will soon fan out in minority dominated districts carrying Prime Minister Narendra Modi's message of development," he said, adding, "we will also educate them about the schemes launched by the NDA government for their education and poverty alleviation."
Party insiders said the BJP leadership was in the process of identifying prominent Muslim faces with clean image to reach out to the community with the PM's message.
"There is a strong possibility that the saffron party may deploy its senior leader and former excise minister Jamshed Ashraf, who had resigned from the Nitish Kumar cabinet decrying corruption, to make a dent in the Muslim vote bank of the Grand Alliance," said a BJP source.
Influenced by PM Modi's policy of development, Ashraf had founded Muslim Bedari (awareness) Muhim with a mission to bring Muslims into the mainstream society.
Ashraf said the party's victory in the UP polls, particularly in Deoband assembly constituency, which is dominated by Muslims, gave a strong message that the nation's Muslim community accepted PM Modi for his developmental plank.
Ashraf claimed that the erstwhile UPA government launched welfare schemes for the minority communities, but they were hardly implemented.
Former state BJP chief Mangal Pandey said the party had big plans to attract Muslims, particularly women and the poor, by apprising them of the Centre's developmental schemes.
Close Story