BJP leader asks ASI if it will allow Yogi Adityanath to visit Taj wearing saffron
A group of supermodels were asked to remove saffron stoles before entering the monument on April on Wednesday, prompting BJP to ask the question about the UP CM who is always in saffron-coloured robes.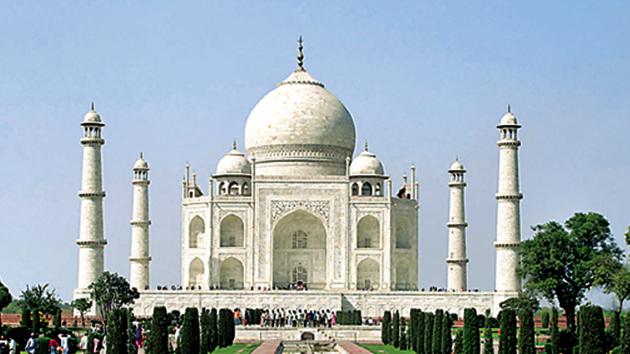 Updated on May 09, 2017 01:13 PM IST
A day after foreign supermodels were asked to remove saffron stoles before entering the Taj Mahal, the Bharatiya Janata Party has asked the Archaeological Survey of India (ASI) if it would also ask chief minister Yogi Adityanath to give up his saffron attire before entering the monument of love.
Protesting against the ASI action and demanding action against those guilty, Vijay Shivhare, city unit president of BJP, has written a letter to minister of state for tourism (independent charge) Mahesh Sharma.
The supermodels from different nations, who are in India to take part in an event in Delhi on April 22, visited the Taj Mahal on Wednesday. A few of them had saffron stoles with "Shri Radhey" written on them which they used to protect themselves from the heat. While going through the checking at entry point, some of them were asked to leave the bands bearing the name of the sponsor company and national flags of their countries outside, as promotional material is not allowed inside the monument.
They were also told not to take the saffron stoles with them inside the Taj, claimed Sushant Gaur, who accompanied the supermodels. He claimed the guide with the group, and not security men, asked them to leave saffron stoles at the check point.
A BJP office-bearer, meanwhile, has asked party supporters to wear saffron and gather at Taj Mahal on Saturday.
"It is totally unacceptable that male security personnel force women models to discard stoles mainly because they are saffron," said Avinash Rana, state general secretary of Hindu Jagran Manch.
"If saffron stoles are not permissible inside Taj Mahal, then Muslims should also not be allowed to enter wearing skull caps," he said.
Chief superintending archaeologist, Agra circle, Bhuvan Vikram Singh said that he was unaware of the incident. "I have asked the Central Industrial Security Force (CISF) officials to find out about the incident. They will submit a report within three days," he said.
Close Story