BJP to conduct surveys in Rajasthan to gauge popularity of its MLAs
Hindustan Times, Jaipur |
Chetan Chauhan and Sachin Saini
Jul 17, 2018 11:55 PM IST
The survey results could be basis for deciding tickets for the upcoming polls in Rajasthan.
The Bharatiya Janata Party in Rajasthan is set to implement the Gujarat model of denying tickets to a large number of sitting legislators who have not performed well in their constituencies, in a bid to beat anti-incumbency.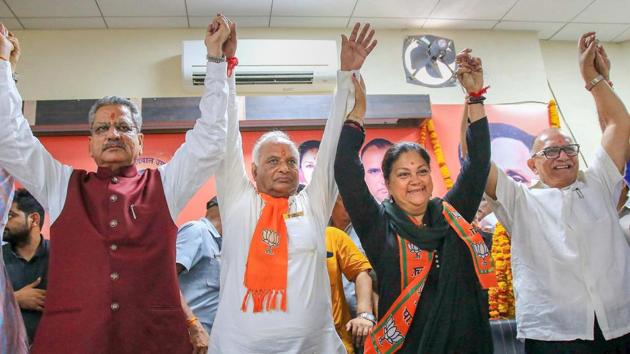 A senior party functionary who was not willing to be quoted said, two simultaneous surveys --- one by Rajasthan BJP and another by Central unit --- have been initiated to gauge "popularity" of the 160 sitting lawmakers.
"A large sample size survey is being conducted by outside agencies in each constituency of the sitting legislators," he said. "Apart from gauging the popularity of the MLAs, we also want to know the possible alternate candidates whom locals like."
BJP spokesperson Anand Sharma said all parties conduct such surveys to gauge what are the issues and the party's prospects on the ground.
In Gujarat, the BJP denied tickets to one-third of the sitting legislators, who were perceived to be unpopular. The new faces helped the BJP to retain almost half of these seats, ensuring victory in a closely contested poll. The BJP had won 99 seats, lowest since 1998, of the 182 seats but was enough to form the government. The Congress bagged 77.
The exercise is important to the BJP's strategy to retain power in Rajasthan as senior party leaders are convinced that repeat of 2013 result would not be possible in 2018 as a strong Prime Minister Narendra Modi's wave is not visible in Rajasthan.
The 2013 state assembly election was held just six months before the general elections when there was a huge wave in favour of Modi. The ruling party, which got 45.2% of votes in 2013, has been losing its advantage in subsequent polls and the latest being three by-polls -- Alwar and Ajmer Lok Sabha and Mandalgarh. The BJP's vote share in these by-polls had dipped by almost one-fifth.
The senior BJP leader admitted that the 2013 wave in favour for the party was not there, but was quick to add that "there is a positive sentiment for PM Modi" which would help chief minister Vasundhara Raje in assembly election slated for November-December this year.
But, winning the election will depend on how the BJP beats anti-incumbency and one of the trusted ways is by denying tickets to "non-performing legislators".
According to party leaders, the survey will gauge how legislators have helped in ensuring the benefits of the state and Central government initiated schemes and, whether they have been in regular touch with people . "Winnability will be sole criteria for ticket distribution," said another BJP leader.
Narain Bareth, a former professor at University of Rajasthan, said: "The move (to deny tickets to sitting legislators) is anti-democratic as it denies voters their right to judge work of a sitting MLA. The practice which started in Gujarat is now a norm across India".