BJP efforts pay off: Ramnath Kovind headed for comfortable win in Prez polls
Updated on Jul 17, 2017 10:04 AM IST
The ruling side expects its presidential candidate to garner about 70% or more of the electoral college. BJP general secretary Bhupendra Yadav said they have the support of 21 chief ministers and over 30 political parties.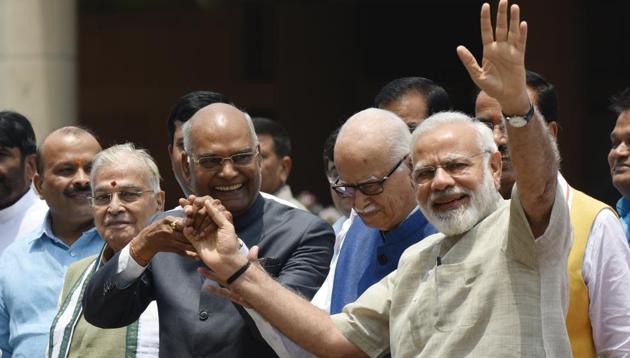 National Democratic Alliance (NDA) candidate Ramnath Kovind seems to be cruising towards a convincing victory in the presidential election, to be held on Monday.
The ruling side expects Kovind to garner about 70% or more of the electoral college, comprising 4,986 voters (4,120 MLAs and 776 MPs). The total vote value adds up to 10,98,903.
"We have the support of 21 chief ministers and over 30 political parties," BJP general secretary Bhupendra Yadav, who is also acting as Kovind's campaign manager, told HT.
Though the NDA was assured of victory due to its majority in the Lok Sabha and dominance over 17 states, BJP strategists worked overtime to widen the margin over United Progressive Alliance (UPA) candidate Meira Kumar.
A team of three senior ministers – Rajnath Singh, Arun Jaitley and M Venkaiah Naidu – reached out to Opposition parties and NDA leaders to garner support for Kovind. The BJP received a shot in the arm when Jaitley managed to convince Nitish Kumar, Janata Dal (United) leader and chief minister of Bihar, to abandon the Opposition and back the NDA nominee.
"Kovind was a good choice. His conduct as Bihar governor was graceful," said JD(U) leader KC Tyagi.
The BJP's unapologetic flaunting of Kovind's Dalit identity also helped bring many non-NDA players to its side. Support poured in from Odisha's Biju Janata Dal, both factions of the Tamil Nadu-based AIADMK, YSR Congress of YS Jagan Mohan Reddy, Telangana Rashtra Samiti of K Chandrasekhar Rao, Indian National Lok Dal of Om Prakash Chautala, and a few others.
Assigning the task of finding outside support in the northeast to Assam minister Himanta Biswa Sarma also paid off. Six Tripura MLAs of the Trinamool Congress have decided to go with Kovind, despite party chief Mamata Banerjee pitching for Meira Kumar. BJP general secretary Kailash Vijayvargiya and Uttar Pradesh minister Sidharth Nath Singh are also learnt to have reached out to Trinamool leaders in West Bengal, besides Congress legislators from Gujarat and Karnataka, for support.
"The party whip does not apply to the presidential election," a BJP strategist said. "We expect cross-voting from the Opposition camp."
A BJP team – comprising Bhupendra Yadav and Union ministers Ananth Kumar and Mukhtar Abbas Naqvi – worked overnight on Kovind's nomination and his campaign tour, which ended on Sunday with an address to MPs.
Read| Ram Nath Kovind or Meira Kumar: Presidential election 2017 live updates
Close Story
Personalise your news feed. Follow trending topics