'Black Panther' to fight Maoists in Bastar: Rajnath Singh
May 21, 2018 11:34 PM IST
The special force named Black Panther will be deployed in Bastar in the next few weeks for conducting operations against Maoist rebels
Home Minister Rajnath Singh on Monday said that the Chhattisgarh police has set up a special force called 'Black Panther' on the lines of Telangana's 'Greyhound' battalions to counter Maoist rebels in their core area of Bastar.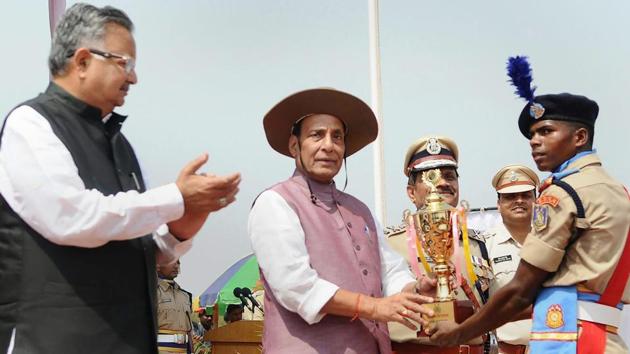 Singh said Naxalism is a challenge but it is now shrinking and losing ground in the country. He said casualties among the security forces have fallen by almost 53 to 55 per cent and the geographical expanse of Naxalism has also decreased by 40 to 45 per cent. "The credit for this goes to our CRPF jawans and officials and personnel of the state police," Singh said.
Singh said the life of a jawan cannot be compensated with money, but as a token of gratitude, the government has decided that not less than Rs 1 crore should be given to the family of a securityman killed in a rebel attack.
The home minister also expressed confidence that the Black Panther force will be able to uproot Maoism from Chhattisgarh's Bastar.
Special director general ( Anti-naxal operations) DM Awasthi said that the special force will be deployed in Bastar in the next few weeks for conducting operations. "The training of about 200 best personnel selected by the state police is going on," Awasthi said.
The Union minister said there are 52 battalions of central armed forces deployed in Chhattisgarh and more forces will be deployed in insurgency hit Bastar.
"In last seven months, seven camps of state and central forces have been established in the core areas of Maoists in Chhattisgarh and they were working in excellent coordination," Singh said.
Singh said that steps are being taken by the government to track the funding and assets of Maoist leaders. "The Maoist leaders who have earned money by using poor people and manipulating their innocence will be punished," Singh said.
Singh was in Chhattisgarh to participate in passing-out parade of the Bastariya battalion of the CRPF in Ambikapur district. The battalion is named 'Bastariya' as its members are from the Bastar region in southern Chhattisgarh, bordering Andhra Pradesh, Odisha and Telangana.
Singh said the decision to set up the specialised battalion was taken in view of the courage and valour shown by the tribal people. Praising the new battalion, he said recruits have shown that "talent, ability and calibre are not just confined to big cities and urban areas but also exist in the people of Bastar."
(With agency inputs)