Blue Whale challenge: Indore boy noted every stage in school diary, classmates knew about deadly game
Aug 11, 2017 02:07 PM IST
The Class 7 student tried to jump off the third floor in his school as part of the Blue Whale challenge but was saved by his classmates.
A Class 7 student in Indore who attempted suicide as part of the Blue Whale Challenge used to note in his school diary every successful stage completed in the dangerous self-harm game, school sources said on Friday.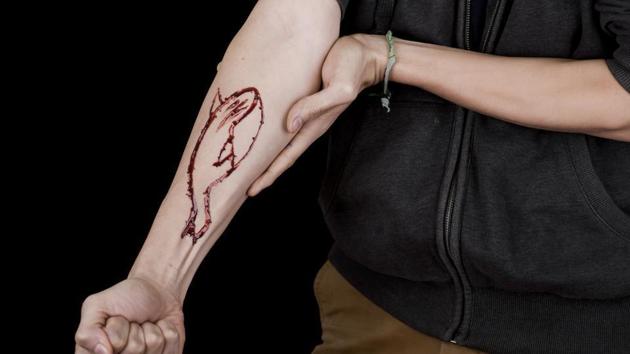 Some of the boy's friends at school knew that the boy was attempting the challenge but didn't take it seriously as they were not fully aware of its implications, sources added. Police said the boy bore no injury or marks of self-harm on his forearm.
The deadly game, held responsible for scores of teenage deaths around the world, psychologically provokes players to indulge in daring, self-destructive tasks for 50 days before finally taking the "winning" step of killing themselves.
A 14-year-old boy was allegedly goaded by the online challenge into killing himself by jumping off the terrace of his building in Mumbai on August 1 in what was believed to be the first casualty of the Blue Whale phenomenon in India. Mumbai police are, however, yet to confirm that the suicide was part of the dreaded challenge.
The incident – the third such report in India in a month – has shocked the schools and administration in the city.
State home minister Bhupendra Singh said he would write to the Centre to take steps to ban the game. Earlier, Maharashtra chief minister Devendra Fadnavis and Kerala chief minister Pinarayi Vijayan had also talked of approaching the central government regarding the challenge.
Indore Sahodaya School Association chairperson Archana Sharma said the incident showed the problem was at "our door step".
"We are sensitising all school principals about the game and promoting 'Digital safe' in all the schools," she said. "School students are not following such games, though they are aware that such a game exists. This came out at a recent teenage conference."
She advised parents to closely monitor their children to see that they are not misusing mobile phones, which have become a necessity as children go out of the house for tuition.
The Indore student tried jumping off the third floor of his school building but was saved by his classmates on Thursday.
The boy's classmates noticed he was leaning precariously from the third floor railing of the school. Hearing their shouting and commotion, the school's physical education teacher rushed to help and rescued the boy. The boy was apparently in the 50th day of the challenge where the controllers of the game had provoked him to jump from the building.