Bridge over Yamuna river breaks internet barrier in riot-hit Saharanpur
Jun 13, 2017 09:46 AM IST
Uttar Pradesh authorities blocked mobile internet services in Saharanpur on Tuesday after a series of clashes between Thakurs and Dalits.
On a weekend visit to his sister's home in Sarsawa town, self-confessed "Facebook worm" Avinash Kumar was bored by an internet ban in Uttar Pradesh's riot-hit Saharanpur district.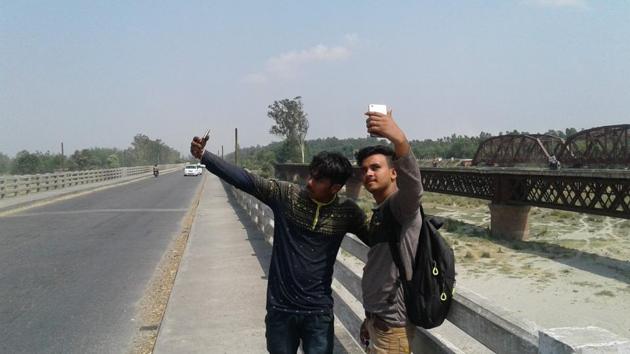 But happiness is 3km away. A bridge over the Yamuna breaks the barrier.
The 21-year-old employee of a private hospital in Punjab's Mohali rode to the bridge on a friend's motorcycle this Sunday to catch up with his Facebook groups. He posted selfies, shot leaning against the railings with traffic fleeting by.
"I cannot think of a day without internet. I come here every weekend. But this time it was boring … When I heard I can access the net from this bridge, I came here," Kumar said.
Uttar Pradesh authorities blocked mobile internet services in Saharanpur on Tuesday after a series of caste clashes killed two men and left scores of people wounded.
"Internet service providers were asked to suspend services on May 25 as we feared outsiders had instigated locals with WhatsApp and Facebook posts," Saharanpur senior superintendent of police Bablu Kumar said over the ban.
But internet signal from adjoining Haryana reached up to the Yamuna bridge on national highway 73. The bridge, opened in 2011, connects the two BJP-ruled states.
Sajid Ahmad, a 30-year-old retail shop owner at Shahjahanpur, a village in Sarsawa, travelled to the bridge with friends Mohammed Irfan and Saddam Hussain, and his prized smart phone that was lying idle.
"On this bridge, which is in Uttar Pradesh, we got internet signal on our way to Yamunanagar on Saturday," Ahmad said, explaining how he found out the way to beat the ban.
Initially people bought Reliance Jio SIM cards that provided 4G internet access despite the ban. But that didn't last long.
"When the authorities got wind of it, they suspended the Jio service as well," said Dheeraj Pandey, a villager surfing the net on the bridge.
Tech experts say such blanket bans are not effective because trouble-makers could send incendiary material from anywhere in the country and abroad.
"The administration should ensure large videos or pictures are not shared," said Faisal Kawoosa, principal analyst at the Gurgaon-based Cyber MediaReserach.
In Saharanpur's urban areas, people are accessing social media sites through virtual private networks (VPN) and encrypted messenger services such as Signal.
VPN allows users to go incognito, and was extensively used in the restive Kashmir Valley after the government blocked 22 social media websites for a month since April 26.
If Kashmiris dodged the ban with technology, people in Sarsawa have a bridge to go to.