Saharanpur Dalit-Thakur violence: Here's why UP blocked WhatsApp, social media
Jun 13, 2017 09:46 AM IST
Last week, seven people in Jharkhand were lynched in 24 hours over rumours circulated on WhatsApp spooking villagers into believing their children may be targeted by abduction gangs
The Uttar Pradesh government has withdrawn internet services in violence-hit Saharanpur in a bid to crack down on rumours and fake news on social media and other websites fuelling caste clashes.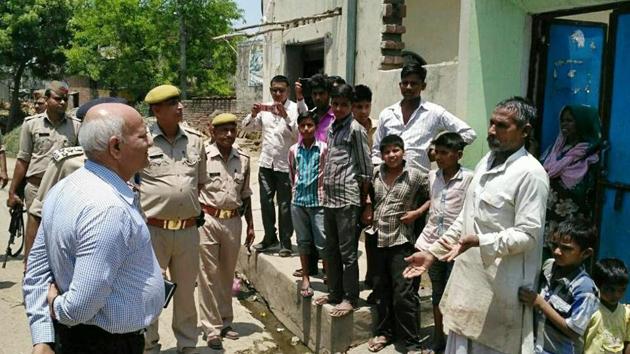 The western UP town has been rocked by clashes between Dalit and Thakur communities for weeks now, and local authorities say the anger is being fanned by rumours and messages on platforms such as WhatsApp.
The instant messaging app has been in the news before. In 2013, police held messages sent on WhatsApp responsible for inciting the Muzaffarnagar riots that killed 60 people and displaced thousands.
Just last week, a message circulated on WhatsApp spooked Jharkhand villagers, mostly unsuspecting tribals, into believing that their children may be targeted by abduction gangs. The result: Seven people were lynched in 24 hours over the rumours.
Why is the instant messaging app that is used by 160 million people – India is its largest market – facing such charges? The answer lies in its design that makes monitoring of such messages nearly impossible.
WhatsApp groups are known to have been used to reach thousands of people, especially in rural areas where traditional media is non-existent.
Facebook, WhatsApp's parent company, has faced much flak for not curbing the circulation of fake news. On its part, Facebook has now said it will try to flag questionable news stories with the help of users and external fact checkers to cope with this problem.
But the instant messaging app poses similar challenges in a particularly intractable form. WhatsApp offers a particularly private medium of communication, something many people like about it. A case currently being heard at the Supreme Court of India concerns the protection of this very quality — while WhatsApp would like to allow Facebook to access its user data, a PIL contends that this move would be a violation of privacy.
The same factors of WhatsApp's design that protect its users also make it difficult or impossible to study many aspects of communication on the platform. Even as anecdotal evidence piles up that WhatsApp is being used to distribute fake news, then, it remains hard to know just what is happening or what can be done in response.
Facebook vs WhatsApp
The differences between WhatsApp and Facebook dictate the ways people share news on each platform. "Facebook is a social platform where people express their concerns, react, and build perceptions based on an individual's posts," says Anoop Mishra, a digital marketing and social media consultant. "However, on WhatsApp, which is an end-to-end messaging platform, people share content in a more personal and closed way."
It is because the primary mode of sharing on instant messaging apps is one-to-one, as opposed to the one-to-many relationship on Facebook, that the former feels more personal. This personal quality of most of the content shared directly or on small groups via WhatsApp carries with it the implicit endorsement of people you know. Given that the app is now a large and growing part of people's lives on mobile devices, the way it influences news consumption demands more attention. "Lack of content moderation and privacy controls gives WhatsApp an edge over Facebook for sharing any type of multimedia content," says Mishra.
For instance, to get your friends' attention on Facebook, you need to tag them. Not every post by every friend shows up on your news feed; what you see is dictated by an algorithm. WhatsApp has a big advantage here since it works like a text message. You know that your message will be received by everyone you send it to.
A black hole for content
There is no non-anecdotal way to track the spread of content on WhatsApp. Facebook, for instance, is compatible with analytics tools capable of determining that a particular news report has been shared 7,000 times, say, or viewed 20,000 times.
Such analysis is not feasible with WhatsApp, which offers no way to mine social media data to understand the patterns, trends, or reach of any given message. Even its original source is completely opaque. What is true of particular texts also applies to the total sum of activity on WhatsApp: it is impossible to determine what kinds of messages the public is sharing most, what sorts of conditions people are sharing these messages in, or where in the world they are spreading.
Surpassing one billion
WhatsApp arrived in India at the beginning of the decade. At that time, chat apps were generally considered to be interchangeable with text messages. Today they're widely understood to support sharing of all forms of multimedia content — photos, videos, audio files and even text documents.
Simplicity is one of WhatsApp's signature virtues. All you need to do is download it: the programme automatically scans your phone book and links up with your contacts who are also users. Crucially, you don't even need a password. According to Guide to Chat Apps, a report by the Tow Center for Digital Journalism at Columbia University, the requirement of a password is "a significant barrier to entry for many people in emerging markets when it comes to other apps and social media platforms."
In February 2016, WhatsApp crossed the one billion mark for active users worldwide. India is its largest market, with about 160 million active users.
WhatsApping the news
WhatsApp's reach and growing role in the consumption of photos and videos has prompted media companies to take it seriously as a distribution channel. A report by the Reuters Institute for the Study of Journalism highlights the increasing adoption of new social networks among young people and the growing importance of recommendations as a gateway to news. "The digital generation expects the news to come to them," says the report's author journalist Nic Newman in a press release. "Young people rarely go directly to a mainstream news website anymore."
But unlike apps like WeChat and Snapchat, which are gaining currency among millennials, WhatsApp hasn't positioned itself as a media distribution platform. Media organisations have been experimenting nonetheless. For instance, the BBC ran pilots on WhatsApp and WeChat for the Indian elections in 2014. Users subscribed to the BBC news service on WhatsApp by adding a number to their contacts and sending a request message to join. They were then put on a broadcast list that sent them up to three updates a day in Hindi and English. Many media outlets, including ours, now have a WhatsApp sharing icon on their mobile websites.
For all its susceptibility to the dissemination of fake news, WhatsApp presents unique challenges to the mass sharing of content, just as it does for the mass tracking of it. It has no official application program interface (API), the service which allows programmers to build applications that automate the functions of a platform. "An official WhatsApp API release could spawn an entirely new industry of startups, in much the same way that the release of Twitter's API did," says the Tow Center report. "Except this time, it could be even bigger, given WhatsApp's near-billion account user base." Reaching out to a wider audience on WhatsApp — with either fake or authentic news — needs to be performed manually, via broadcast lists, which allow you to send the same message to many people at once, and groups.
State of control
Fake news might lead only to harmless speculation or minor inconvenience, as it did with rumours about a microchip embedded in a Rs 2,000 note, or it could be dangerous, as was the case during the Muzaffarnagar riots. Pranesh Prakash, a policy director at the Centre for Internet and Society, a research and advocacy group focused on digital technology, believes that social media rumours gain potency after the imposition of censorship, under which people begin to wonder what the government is trying to conceal. "There is no way rumours can be completely quelled," he says, "but the state can act against rumours through clear communication that calls out particular rumours, and tells people not to believe them."
"Exciting news! Hindustan Times is now on WhatsApp Channels
Subscribe today by clicking the link and stay updated with the latest news!"
Click here!
Get
Latest India News
along with
Latest News
and
Top Headlines
from India and around the world