By 2050, India will need New Delhi-sized landfills to manage disposal: Study
Updated on Jun 25, 2017 10:42 PM IST
The study by PwC-Assocham recommends that the country's waste management sector be accorded industry status to ensure it is regulated and monitored.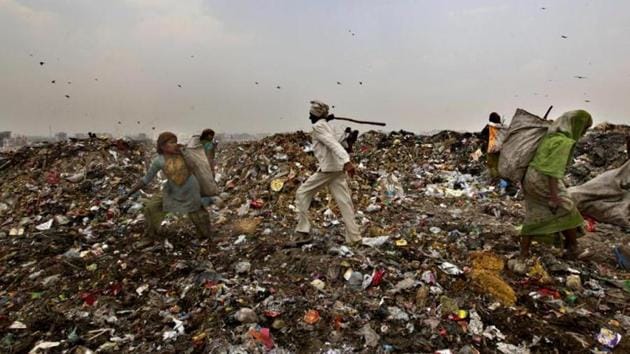 Press Trust of India, New Delhi |
Press Trust of India
Owing to poor waste management practices, a staggering 88 square km of land will have to be dedicated for waste disposal through landfilling by 2050, nearly equal to the area under the administration of New Delhi Municipal Council, a PwC-Assocham study has revealed.
The study has recommended the government to accord industry status to the country's waste management sector to provide it regulatory adherence with a dedicated monitoring and compliance cell.
At present, most of the waste in India is dumped without proper treatment.
"This will eventually render the land unfit for any other use for as long as a half century before it can be stabilised for other uses," said the report.
According to a previous estimate, by 2050, about 50 per cent of India's population will be living in urban areas, and the volume of waste generation will grow by five per cent every year.
"The expected waste quantity we are looking at for the year 2021, 2031, and 2050 are 101 million metric tonnes (MMT) per year, 164 MMT, and 436 MMT per year respectively," the report estimated.
It noted that waste generation of Class I cities (with population between 0.1 million to 5 million) in India has been estimated to be around 80 per cent of country's total waste generation.
Highlighting the concerns about per capita waste generation rate, the study said that presently it is about 300-400 gm/capita for medium cities and 400-600 gm/capita for large cities.
It observed that poorly managed waste has direct implications on urban environment leading to air, water, and soil pollution, along with long-term health impacts, while it has indirect implications on our economy and growth prospects.
Improper planning for waste management, complex institutional setup, constraints in capacity for waste management and limited funds with urban local bodies are some of the reasons waste management in India have become a matter of concern, the study said.
Close Story
Personalise your news feed. Follow trending topics