Union Cabinet clears ordinance for stricter punishment for rape: Here are the key features
Hindustan Times, New Delhi |
HT Correspondent
Apr 21, 2018 04:50 PM IST
The ordinance okayed by the Cabinet says investigation of all cases of rape has to be mandatorily completed within two months.
The Union Cabinet headed by Prime Minister Narendra Modi on Saturday approved an ordinance that will make sweeping changes to criminal law to deter acts of rape and instil a sense of security among women and children.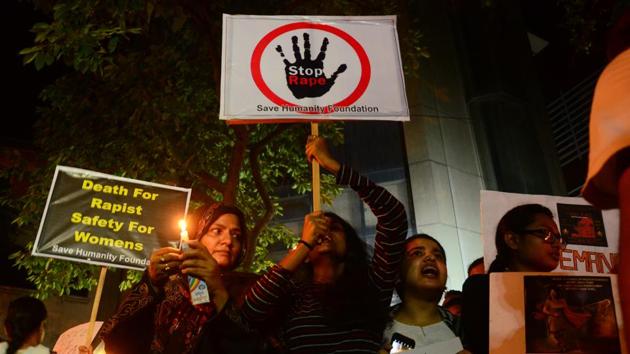 The changes proposed in the Criminal Law (Amendment) Ordinance, 2018, include death penalty for child rapists, provisions for speedy investigation and trial of rape cases, an increase in the minimum quantum of punishment for rape convicts and the scrapping of anticipatory bail if the victim is a minor. The government has also decided to implement a series of measures, including new fast-track courts to try rape cases, to supplement the legal provisions.
Here's a look at the key features and changes approved by the Cabinet.
Changes in criminal law:
• Minimum punishment in case of rape of women has been increased from rigorous imprisonment of seven years to 10 years, extendable to life imprisonment.
• If the victim is under 16 years, minimum punishment has been increased from 10 years to 20 years, extendable to a life sentence (clarified as imprisonment for the rest of the convict's natural life).
• The punishment for the gangrape of a girl under 16 years of age will invariably be a life sentence.
• Stringent punishment for the rape of a girl under 12 years -- minimum 20 years' imprisonment or a life sentence or with death.
• In the case of gangrape of a girl below 12 years, the punishment will be a life or death sentence.
Speedy investigation and trial:
• The investigation of all cases of rape has to be mandatorily completed within two months.
• The trial of all rape cases has to be completed in two months.
• Appeals have to be disposed of in six months.
Restrictions on bail:
• No provision for anticipatory bail for a person accused of rape or gangrape of a girl under 16 years.
• The court has to give notice of 15 days to the public prosecutor and the representative of the victim before deciding bail applications in case of rape of a girl under 16 years of age.
The other measures approved by the cabinet:
• New fast-track courts will be set up in consultation with states, Union Territories (UTs) and high courts.
• New posts of public prosecutors and related infrastructure will be created in consultation with states/UTs.
• Special forensic kits for rape cases will be provided to all police stations and hospitals.
• Dedicated manpower will be provided for investigation of rape cases in a time-bound manner.
• Special forensic labs will be set up in each state and Union Territory exclusively for rape cases.
• These measures will form part of a new mission mode project to be launched within three months.
• The National Crime Records Bureau will maintain a national database and profile of sexual offenders.
• This data will be regularly shared with states and UTs for tracking, monitoring and investigation, including verification of antecedents by police.
• The present scheme of One Stop Centres for assistance to victims will be extended to all districts in the country.