Cabinet clears ordinance for death penalty to child rapists
Updated on Apr 21, 2018 04:48 PM IST
The move seeking death penalty for child rapists comes after nationwide outrage over the brutal rape of an eight-year-old girl in Kathua and the alleged rape of a minor in Unnao.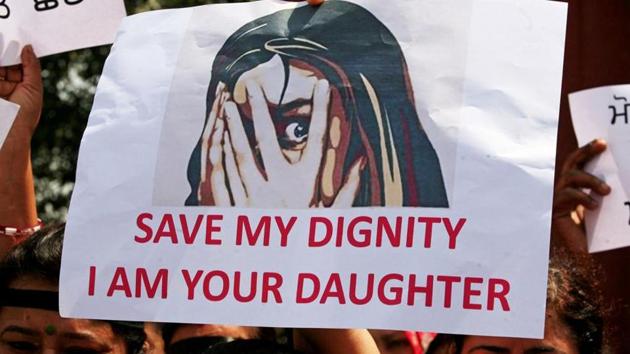 Hindustan Times, New Delhi |
Moushumi Das Gupta and Jatin Gandhi
The Union Cabinet on Saturday approved the promulgation of an ordinance that seeks to award death penalty to those convicted of raping children below 12 years.
The Cabinet cleared the amendments to the Criminal Law ordinance 2018, a senior government official confirmed, adding that it will come into force once President Ram Nath Kovind approves it, which should take a day or two.
The move comes against the backdrop of nationwide outrage over the brutal rape of an eight-year-old girl in Kathua district of Jammu and Kashmir.
Currently, the maximum punishment for aggravated sexual assault on minors under the POCSO Act is life imprisonment. The law came into force in 2012 and deals with sexual offences against those below 18 years. The Indian Penal Code, however, prescribes death penalty for gang rape.
Other provisions included in the ordinance are for speedy investigation and trial of rape cases not more than four months together, an increase in the minimum quantum of punishment for rape convicts and the scrapping of anticipatory bail if the victim is a minor.
The ordinance also requires the National Crime Records Bureau to maintain a national database and profile of sexual offenders, data of which will be shared with states and Union territories for tracking, monitoring and investigation, including verification of antecedents by police.
The government has also decided to implement a series of measures, including new fast-track courts to try rape cases, to supplement legal provisions.
On Friday, the government had informed the Supreme Court that it is actively considering amending the penal law to introduce death penalty to those convicted of sexually abusing children up to 12 years of age.
Referring to the Unnao and the Kathua rape cases, Prime Minister Narendra Modi had last week said that such incidents shake our sensibilities and no criminal will be spared and "our daughters will get justice".
Recently, the Rajasthan government had approved a bill seeking death penalty for those convicted of raping girls under 12 years of age. Two other BJP ruled states — Madhya Pradesh and Haryana — have also given the go-ahead for a similar proposal.
Close Story
Personalise your news feed. Follow trending topics