Can't be a case of abortion: SC suggests counselling for 8-month pregnant woman
Published on Jan 24, 2023 12:20 PM IST
In September, the Supreme Court in its path-breaking decision ruled that an unwed, single mother seeking an abortion will have the right under the Medical Termination of Pregnancy (MTP) Act and removed a legal bar that prevented such category of women from terminating unwanted pregnancies of 20-24 weeks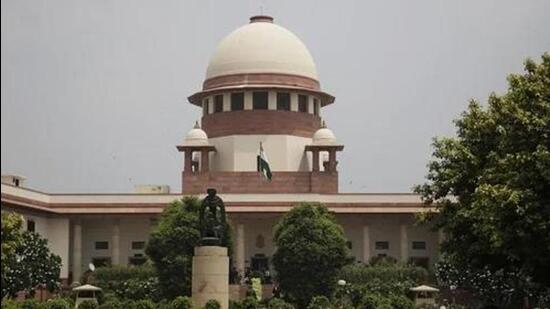 The Supreme Court dealing with a college student's plea to abort her 29-week foetus was caught in a bind on Monday after a medical board formed by Delhi's All India Institute of Medical Sciences (AIIMS) on examining the unwed mother found an 80% chance of survival of the child.
With the petitioner unwilling to accept the child, a bench headed by Chief Justice of India (CJI) Dhananjaya Y Chandrachud sought the assistance of additional solicitor general (ASG) Aishwarya Bhati to interact with the woman and guide her on the future course of action.
The matter will be heard next on February 2.
Also Read: Students move Supreme Court on hijab; CJI says will consider setting a 3-judge bench
Going through the AIIMS report received last week, the bench also comprising justices V Ramasubramanian and JB Pardiwala said, "The doctors at AIIMS told us there is an 80% chance that the baby will come out alive. It has to be then kept under neonatal care."
"Is she aware of this report? This is not the case of abortion like the earlier cases we dealt with before," the Supreme Court said.
The bench shared a copy of the AIIMS report with Mehta and asked him to sit with the petitioner's lawyer to suggest a way out.
Solicitor general Tushar Mehta who appeared along with ASG Bhati said, "It will amount to killing the child at 29 weeks."
The medical board suggested the petitioner consult the psychiatric department in the hospital for counselling. The bench held, "Having regard to the contents of the report, we request ASG Aishwarya Bhati to interact with the petitioner and guide her appropriately."
Advocate Amit Mishra appearing for the petitioner told the Court that the petitioner is an engineering student who is currently giving her examinations. He informed the bench that he shared the contents of the AIIMS report with the young girl to know her views. "She does not want this pregnancy. She says my career will be ruined and fears that her college education will get stuck," Mishra said.
To this, the bench said, "The foetus is eight months old. If she does not want the child, it has to be kept under neonatal care."
In September, the Supreme Court in its path-breaking decision ruled that an unwed, single mother seeking an abortion will have the right under the Medical Termination of Pregnancy (MTP) Act and removed a legal bar that prevented such category of women from terminating unwanted pregnancies of 20-24 weeks.