Central Vista Avenue work 60% complete
Published on Dec 03, 2021 09:21 AM IST
The Avenue, where preparations for the Republic Day parade have started, will be completed within this month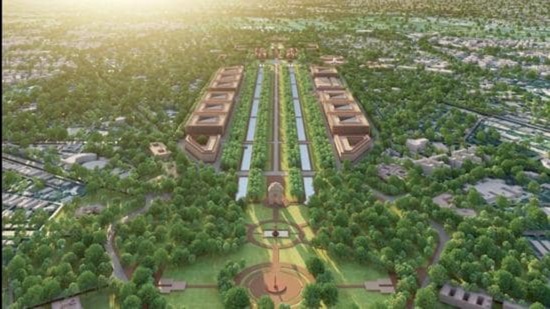 The Union government on Thursday told the Parliament that the physical progress of the redevelopment of Central Vista Avenue and the new Parliament building, part of the Central vista redevelopment project, stands at 60% and 35% complete respectively.
The Avenue, where preparations for the Republic Day parade have started, will be completed within this month while the new Parliament is expected to be ready by October 2022.
In a written response to a question by Congress MP Manish Tewari, minister of state housing and urban affairs Kaushal Kishore said that so far four projects (new Parliament building, redevelopment of Central Vista Avenue, construction of three out of the 10 Common Central Secretariat buildings and vice-president's residence) are being implemented.
" ₹1,289 crore has been allocated for the works of Development/Re-development of Central Vista in the ongoing FY 2021-22," the minister informed the Lok Sabha.
Tewari asked whether "work under the Central Vista Redevelopment Master plan with an estimated cost of around 20,000 crore rupees resumed in spite of the pandemic while the MPLADS scheme, the funds through which could be used for the betterment of Indian citizens especially during the pandemic".
"There is no link between the works of Central Vista Development/Re-development with the MPLADS scheme. Separately, the Union Cabinet, in its meeting held on November 10, 2021, has restored MPLAD Scheme (MPLADS) for the remaining part of the Financial Year 2021-22 and its continuation from FY 2022-23 to FY 2025-26 with an outlay of ₹17,417 crore," the minister said.
The central government said the ongoing works at the Central Vista have provided direct livelihood opportunities to "more than 10,000 skilled, semi-skilled and unskilled workers on-site and off-site and generated more than 24.12 lakh man-days of employment".
The construction of the new Parliament building started earlier this year. The Central Public Works Department (CPWD) recently invited pre-qualification bids for the construction and maintenance of the executive enclave, which will include the Prime Minister's Office, India House, Cabinet Secretariat and National Security Council Secretariat, as part of the Central Vista redevelopment project. The ₹1,171 crore project will be completed within 24 months from the date of handing over of the site, as per the bid document.
Personalise your news feed. Follow trending topics