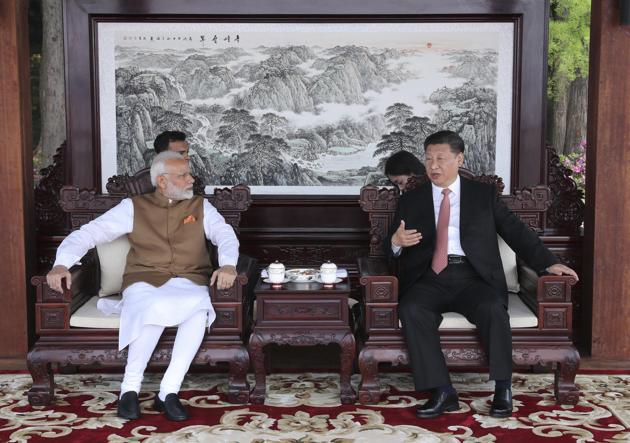 Chinese president Xi Jinping gifted Modi a replica of ancient musical chime
Called Bianzhong in Chinese, the set of 65 chimes was unearthed in 1978. Modi and Xi played the chimes during their informal summit in Wuhan.
Hindustan Times, Beijing | By Suthirtho Patranobis
UPDATED ON MAY 01, 2018 07:16 AM IST
President Xi Jinping gifted Prime Minister Narendra Modi a replica of a 2,400-year-old musical chime during their informal summit in the central Chinese city of Wuhan.
The instrument is considered a symbol of refinement of the civilisation that flourished in Hubei province in ancient China.
Called Bianzhong in Chinese, the set of 65 chimes was unearthed in 1978. It is played during important occasions, including official banquets and receptions for foreign guests, as mentioned in an official statement from the provincial museum. It was at the provincial museum that the Modi-Xi informal summit began on Friday afternoon, with the Chinese President taking the Indian leader on a personal tour.
Modi and Xi played the chimes, which are of different sizes. The smallest chime plays the sharpest note. Xi gifted Modi a replica of one of the smaller chimes.
The official statement quoted an UNESCO official as saying that the chimes have preserved the musical memory of human beings for 2,400 years and should be preserved under the Memory of the World project.
"In ancient China…the number of chimes was the sign of notable status, the expression of rites, and the symbol of power of the country. The country should play the chimes at significant occasions such as various ceremonies, banquets, reception of foreign guests to show solemnity," the statement said.
Explaining the importance of relics at the museum, Xi said the culture that rose around Hubei province in ancient times was an important part of and played a decisive role in the development of the Chinese civilisation.
"Both China and India are countries with a splendid history and culture, and there are many similarities between cultures of the two countries," he said.
Diplomatic gifts are considered priceless, not in terms of monetary value but in the currency of diplomatic significance.
"Lot of thought went behind the gift we have for President Xi," an official had said when asked about Modi's present for XI.
Modi presented XI specially-made prints of paintings by legendary Chinese artist Xu Beihong, who spent time at Santiniketan. They are part of Xu's collection in Santiniketan. The symbolism behind gifting the reprints wasn't lost — deep cultural links between the two countries, between a leading Chinese painter and India and its first Nobel Laureate, Rabindranath Tagore.
Topics
Close