'Choose Pandavas or Duryodhan': INLD's Ajay Chautala likens family feud to Mahabharat
Updated on Nov 07, 2018 12:57 PM IST
INLD leader Ajay Chautala's sons - Dushyant and Digvijay - have been expelled by their grandfather and party chief Om Prakash Chautala on grounds of indiscipline and hooligansim.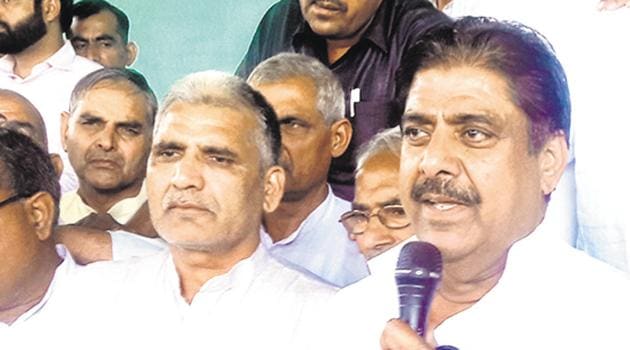 Indian National Lok Dal (INLD) leader Ajay Chautala on Tuesday said the ongoing tussle within his clan was akin to the epic Mahabharat war.
The incarcerated leader who stepped out of the Tihar jail on Monday on a two-week parole embarked on a statewide tour on Tuesday to hold consultations with the party workers to build public opinion in favour of his expelled sons Dushyant and Digvijay.
The two brothers were expelled from the primary membership of the party by their grandfather and INLD chief Om Prakash Chautala on grounds of indiscipline, hooliganism and spreading disaffection within the party during the birthday celebrations of former deputy prime minister and their great-grandfather Devi Lal on October 7.
Addressing workers at INLD's Jhajjar office, Ajay said: "The current situation in INLD is like Mahabharat....whether you would like to choose the Pandavas or Duryodhan," he said, without naming anyone.
The Duryodhan remark by Ajay Singh is being seen as an oblique reference to his younger brother, Abhay Singh Chautala.
"We neither want any empire..nor any power… all we want is respect for our workers," he said.
Repeating what he said a day ago in Delhi, Ajay said INLD was nobody's patrimony but belonged to every worker of the party. "We will not let INLD become anyone's patrimony. My father has taught me to snatch my rights and I will fight for them," he said.
Ajay, who had come to INLD's Jhajjar office after two years, was welcomed by a large gathering of supporters who raised slogans, calling his son Dushyant Chautala as the next chief minister of Haryana.
Enthused with the slogans, Ajay straight away climbed on to the stage, took the mike in his hands and started his address. He started with showing his regards for the party workers and said under his realm, no party worker was ever misbehaved with or treated badly in the party. Soon, he launched attacks at his opponents.
He said the final decision of the battle rests with the public. He invited the gathering to his rally in Jind on November 17, where he is expected to announce the upcoming strategy of his family. He said he will first go to Teja Khera village to seek his mother's blessings and will then continue his meetings with party workers across the state to decide the future course of action.
He was accompanied by his son Digvijay Chautala in Jhajjar.
The father-son duo then proceeded to Charkhi Dadri and Bhiwani where they stopped in between many villages and met party workers.
Ajay is serving a 10-year sentence along with his father following their conviction in the junior basic training (JBT) teacher recruitment scam.
Personalise your news feed. Follow trending topics