Latest from om prakash chautala
Here are today's top news, analysis, and opinion. Know all about the latest news and other news updates from Hindustan Times.

According to prison records, former Haryana chief minister Om Prakash Chautala is one of seven prisoners above the age of 80. There are another 63 between ages 70 and 80. Until Chautala's sentencing on Friday, an 85-year-old convicted of murder was the oldest in the prison.

At 87, the former Haryana CM is Tihar Jail's oldest prisoner and will undergo actual imprisonment for about two years and eight months as the court granted benefit under section 428 of CrPC.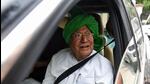 The Central Bureau of Investigation lodged the case in 2005, and a charge sheet was filed in March 26, 2010, accusing Om Prakash Chautala of amassing assets worth
₹
6.09 crore, disproportionate to his legitimate income, between 1993 and 2006.

Former Haryana chief minister Om Prakash Chautala qualified Class 10 and Class 12 board exam at the age of 87.

By
Sharmita Kar
| Edited by Chandrashekar Srinivasan
, New Delhi