Latest from om prakash chautala
Indian National Lok Dal supremo and former Haryana chief minister Om Prakash Chautala said if his party is elected to power, they will provide a permanent government job to every youth based on his competence and those left will be given unemployment allowance

Updated on Apr 21, 2023 11:21 PM IST
The oldest case pending probe is of 2005 criminal case involving former CM Chautala on allegations of irregularities in recruitment of HCS officers and others between 2002 and 2004. The vigilance, however, has now given clean chit to Chautala in the case.

Updated on Apr 20, 2023 02:59 AM IST
Here are today's top news, analysis, and opinion. Know all about the latest news and other news updates from Hindustan Times.


Published on May 28, 2022 08:54 AM IST
According to prison records, former Haryana chief minister Om Prakash Chautala is one of seven prisoners above the age of 80. There are another 63 between ages 70 and 80. Until Chautala's sentencing on Friday, an 85-year-old convicted of murder was the oldest in the prison.


Published on May 28, 2022 05:10 AM IST
At 87, the former Haryana CM is Tihar Jail's oldest prisoner and will undergo actual imprisonment for about two years and eight months as the court granted benefit under section 428 of CrPC.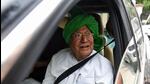 Updated on May 28, 2022 11:44 AM IST