Cop who shot Odisha minister Naba Das suffered from mental disorder: Wife
Jan 29, 2023 09:38 PM IST
Accused ASI Gopal Das's wife said Gopal Das was under medication for mental disorder but appeared normal. He made a video call to their daughter on Sunday morning before the incident took place.
The wife of Gopal Das, the assistant sub-inspector who shot at Odisha health minister Naba Kishore Das, said her husband suffered from mental disorder for the last seven-eight years. Wife Jayanti said she is not aware of any personal enmity between Gopal and the minister. Gopal was taking medicines and appeared quite normal. On Sunday morning, before Gopal fired at the minister, he made a video call to his daughter.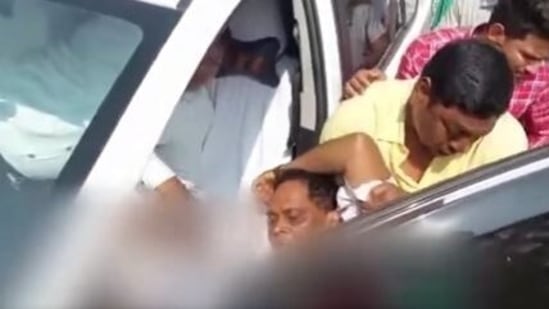 In the evening, the minister succumbed to his injuries. "On operating, it was found that a single bullet had entered and exited the body, injuring the heart and left lung and causing massive internal bleeding and injury. The injuries were repaired, and steps were taken to improve the pumping of the heart. He was given urgent ICU care. But despite the best of efforts," a statement from the Apollo Hospital read.
Here are the latest updates on the Odisha shooting incident
1. Chief minister Naveen Patnaik asked the Crime Branch to take up the investigation into the shooting at the health minister.
2. A team of the Odisha crime branch headed by a senior police officer headed to Brajarajnagar in the Jharsuguda district where the incident took place.
3. Health minister Naba Das was fired at around 12.30pm at Gandhi Chowk when he was on his way to attend a programme.
4. A video has been shared by news agency PTI of the moments immediately after the minister was shot at and collapsed with injuries on his left chest. In the video, people can be seen trying to make him sit in the car after he was shot at.
5. From Jharsuguda, Naba Das was airlifted to Bhubaneshwar and was admitted to the Apollo Hospital. The chief minister visited the hospital.
6. Gopal Das was nabbed by the local residents after he fired at the minister and then he was handed over to the police.
7. Questions are being raised why the health minister was not admitted to any government hospital of the state, though from the accident spot he was taken to the Jharsuguda district headquarters hospitals.
8. Naba Das was a strongman in Jharsuguda and was formerly associated with the Congress. Ahead of the elections in 2019, he switched over to the BJD.
9. Naba Das was believed to be the second richest minister in the state after Naveen Patnaik.
10. A three-time MLA, Naba Das has been the state's health minister since 2019.
(With inputs from bureau and PTI)