Illegal activities at Corbett: IFS officer withdraws from investigation
Nov 10, 2021 06:05 AM IST
IFS officer Sanjiv Chaturvedi has withdrawn from a probe into illegal constructions and felling of trees in the Corbett Tiger Reserve (CTR) in Uttarakhand.
Indian Forest Service (IFoS) officer Sanjiv Chaturvedi, who was last week named to lead an investigation into illegal construction and felling of trees in Corbett Tiger Reserve (CTR), has said he cannot conduct the investigation, citing contradictory statements of senior government functionaries over his appointment.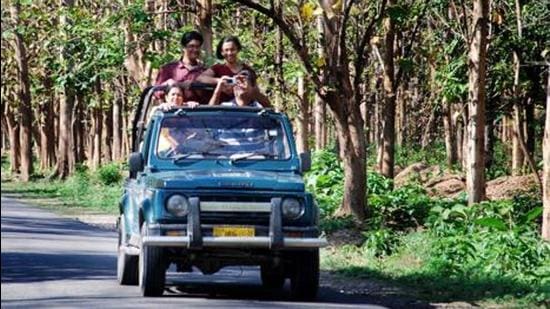 In a letter to Uttarakhand's top forest officer Rajiv Bhartari who gave him the assignment last week, Chaturvedi pointed to a local media report which quoted the state's forest minister Harak Singh Rawat saying that the state's chief wildlife warden JS Suhag, and not the principal chief conservator of forests Bhartari, is empowered to order the investigation.
"Under these conditions, it is not possible for the undersigned to conduct this investigation. In future, I should be appointed as the IO only when the department and state government have a clear intention to actually punish the real culprits in any corruption case," Chaturvedi, the state's chief conservator of forests in charge of the state forest research wing, said in his letter.
HT has reviewed a copy of his November 7 letter to the state's principal chief conservator of forests Rajiv Bhartari.
Chaturvedi was named to investigate allegations of illegal construction and felling of trees in CTR after the Uttarakhand high court, in an October 27 order asked the central and state government to investigate areas red-flagged by a report by the National Tiger Conservation Authority (NTCA). The NTCA report, which said illegal construction was going on in CTR without any approval or financial sanctions, called it an excellent example of "administrative and managerial failure".
The high court is scheduled to take up the case again on Wednesday.
Hours after details of Sanjiv Chaturvedi's letter sent on Sunday emerged, the second official who was told to investigate the illegal construction and felling of trees by the chief wildlife warden Suhag also declined to take up the job. Additional principal conservator of forests BK Gangte said it was against the norms for the wildlife official to give him the assignment since he worked under the state's top forest officer Rajiv Bhartari and not Suhag. Besides, he said Bhartari has already appointed Chaturvedi for the job.
Chaturvedi, a celebrated IFoS officer, was awarded the Ramon Magsaysay Award for exposing irregularities in Haryana's forest department that, among others, led to stopping illegal construction in the state's Saraswati Wildlife Sanctuary in 2009. In 2015, Chaturvedi was shifted from Haryana to Uttarakhand on his request after he cited harassment for uncovering a large number of corruption cases.
In his letter, Chaturvedi said he has conducted hundreds of investigations in his career but has never seen "so much fear, desperation, confusion and apprehensions" on his mere appointment as an investigating officer (IO).
He said the statements not only raised questions over the legality of his appointment as investigating officer and added that even before the investigation could start, "there seems to be an effort to vitiate the sanctity of the investigation".
Chief wildlife warden JS Suhag earlier said he appointed BK Gangte as the IO on October 30, well before Chaturvedi was appointed on Nov 2, and there was no confusion about his authority to order the investigation.
Gangte said he received the formal communication about his appointment on Tuesday morning.
Rajiv Bhartari said he has also received a copy of the letter, adding that Gangte has explained why he cannot be appointed as the IO by the chief wildlife warden. Besides, both of them hold the same rank, he added