Covid empowered groups reconstituted, oxygen included
Updated on May 30, 2021 01:02 AM IST
Originally the Centre formed 11 empowered groups for Covid-19 management, which were reconstituted into six larger groups in September.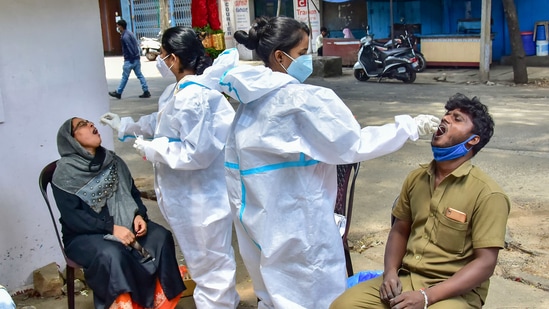 The Centre on Saturday reconstituted the empowered groups set up to monitor and coordinate activities and response to contain the spread of Covid-19 in the country by including exclusive groups on oxygen availability, testing, vaccination and emergency response capabilities.
Six of the groups are headed by secretaries of the government while three are headed by Niti Aayog members and one by the director general of the Indian Council of Medical Research (ICMR).
VK Paul, member of the Niti Aayog, is in charge of two key empowered groups – EG1 on India's emergency management plan and strategy, and EG5 on vaccination.
The order issued by Union home secretary Ajay Kumar Bhalla under the Disaster Management Act, 2005, said: "...the situation has been reviewed and a need has been felt to reconstitute the six Empowered Groups into 10 groups in order to cater the current need of Covid-19 management."
Bhalla himself heads EG10 on pandemic response and coordination, which deals with containment measures and guidelines, coordination with the states, legal and administrative aspects and logistics and supply chain management.
Originally, immediately after the first nationwide lockdown in March last year, the Centre formed 11 EGs for Covid-19 management, which were reconstituted into six larger groups in September.
A new group formed on Saturday – EG2, headed by Union health secretary Rajesh Bhushan -- will exclusively look into emergency response capabilities of the country during a Covid-19 wave. It will primarily address the issues related to availability of general and ICU beds in hospitals; equipments including ventilators; personal protective equipment (PPE), masks, gloves, medicines, etc.
The Centre has also formed a separate group on oxygen – EG4, headed by secretary road transport Giridhar Aramane -- which will look into production, import, logistics, plants and conversion of nitrogen into medical oxygen, availability of cryogenic tankers, etc.
Significantly, EG5 for vaccination under VK Paul will monitor the procurement, management, import, logistics, daily supply, utilisation and wastage of Covid-19 vaccines across the country. India is currently administering three vaccines – Covishield, Covaxin and Sputnik V (from second week of June).
Paul also heads EG1, which monitors disease surveillance, emerging scenarios, global trends and medical protocol.
Personalise your news feed. Follow trending topics