Covid-19: What you need to know today
Some experts are also of the opinion that it could become the dominant strain in most parts of the world, replacing Alpha, which was first sequenced in the UK.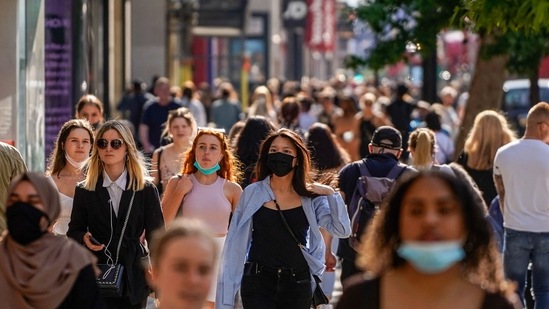 Updated on Jun 16, 2021 05:22 AM IST
The Delta variant of the Sars-CoV-2 virus, B.1.617.2 is likely to become the dominant strain in the US, experts fear, much like it already has in the UK. Indeed, both the UK and Russia are among countries that are seeing a resurgence in cases on account of this variant which was first sequenced in India. After bottoming out at a little over 2,000 in the first week of May (the lowest since last September), the seven-day average of daily new cases in the UK, according to the NYT database, rose to 7,278 on June 14. In Russia, according to worldometers.info, the seven-day average of daily new cases was 12,363 on June 14, after bottoming out in the low 8,000s in early May, during a long plateau that followed the second wave of the pandemic in that country. Some experts are also of the opinion that it could become the dominant strain in most parts of the world, replacing Alpha, which was first sequenced in the UK. The numbers shouldn't surprise anyone. Research by Public Health England has shown that Delta is 64% more infectious than the original strain of the virus that first emerged in Wuhan, China, in late 2019. But while it is more infectious, research released earlier this week (again, by Public Health England) showed that two doses of the Pfizer/BioNTech vaccine prevent hospitalisation in 96% of cases, and two doses of the AstraZeneca/Oxford one in 92% of the cases. The vaccines, according to earlier research by PHE, were found to be 88% and 60% effective in preventing infection after two doses (and 33% effective in preventing it after one).
On Monday, the UK also announced that it was reducing the gap between the two doses of vaccine for those over the age of 40 years from 12 weeks to eight weeks, a move aimed at countering the Delta variant (the country also delayed opening up further till July 19 on account of this strain). As I've said before in this column, India should now consider doing the same. The Delta variant is likely the dominant one in this country too (we can't know for sure till we sequence enough viral genomes, which we aren't doing). Still, the revelation that vaccines are highly effective in preventing hospitalisation, even in case of an infection caused by the Delta variant, is good news.
On the subject of the Delta variant, there's been a lot of buzz around a so-called Delta-plus variant, one that displays one mutation that was seen in Beta (B.1.351), which was first sequenced in South Africa, and which seems to have some ability to evade antibodies (the Gamma variant or P1 or B.1.1.248, first sequenced in Brazil also has a mutation that allows it to do this), but there hasn't been much research around it yet.
But there was more good news on Monday as well: research by scientists from Rockefeller University and Weill Cornell Medicine suggested that immunity against the Sars-CoV-2 virus was strong even a year after infection, and that infected people who received at one dose of the vaccine developed strong immunity even against the variants of concern. HT reported this study on June 15.
This, the duration for which a prior infection or a vaccine (or both) offers protection against Covid-19 has been one of the fundamental questions of science related to the pandemic. Over the past few months, our ability to answer that question has improved. In May, Nature published a paper by scientists at the Washington University School of Medicine, St Louis that showed that people infected with Sars-CoV-2 do, over time, develop memory plasma cells (resident in their bone marrow). Such cells typically offer long-lasting immunity against pathogens. For instance, in an instalment of this column last July, I wrote of a 2020 study by scientists at Duke-National University of Singapore Medical School and Singapore's National Centre for Infectious Diseases that people infected in 2003 by Sars-CoV-1, which caused Severe Acute Respiratory Syndrome (Sars), still possessed cells that remembered that virus and could protect them against it if required.
It's reasonable to assume that some of these immunological benefits are only available to those who have suffered a symptomatic infection (in keeping with the old adage, no pain, no gain), but this too is a question that science should be able to answer soon.
Topics
Close Story