Cows make up tiny share of cattle smuggled to Bangladesh
Updated on Mar 25, 2017 08:32 AM IST
Data collated by HT from auctioning of seized cattle by customs outposts along the Indo-Bangladesh border comes close to unofficial home ministry estimates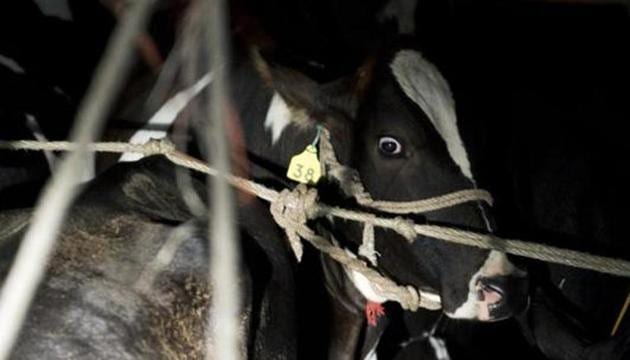 New Delhi/Guwahati |
Appu Esthose Suresh & Rahul Karmakar
The share of cows in the illegal cattle trade from India to Bangladesh has been an average 12% over the past three years, shows an HT analysis of official data on livestock seized along the international border.
Focus on cow smuggling and consumption of cattle meat has risen since the BJP won power in 2014, but the issue returned to spotlight after the new Uttar Pradesh chief minister Yogi Adityanath clamped down on illegal slaughterhouses and cattle smuggling this week.
The BJP's ideological parent – the Rashtriya Swayamsevak Sangh – considers cows sacred and has long pushed for a nationwide ban on their slaughter and trade, saying the bovine population was under threat in India.
But official data accessed by HT indicated that the situation was probably far from alarming for cows in India.
Between January 2014 and December 2016, the number of cattle seized varied between 1.5 lakh to 1.75 lakh every year. And the seizure of cows is consistent between 11.7% and 11.9% in all three years. The government began collating cattle seizure data from 2014, the year the BJP came to power.
Maximum seizures are of bullock or ox (37.6% - 40.7%) and calves (30.6%- 43.24%). Male calves accounted for 95% in the calf category.
While there is no definite estimate of illegal cross-border cattle trade, unofficial government estimates pegs it at 1.8 million to 2 million animals, according to a senior official from home ministry. He declined to be identified citing the political sensitivity in the matter.
Experts say extrapolation of seized goods is an accepted global practice to make an educated guess – known as guesstimate -- and they peg it at nearly 10 times the seizure.
Data collated by HT from auctioning of seized cattle by customs outposts along the Indo-Bangladesh border comes close to unofficial home ministry estimates. In Muslim-majority Bangladesh beef is a staple.
The Border Security Force (BSF), tasked with stopping smuggling of bovine animals besides guarding the frontier, hands them over to the customs department, which in turn auction it. The valuation of cattle to be auctioned are classified into broadly five heads—cow, buffalo, bull or ox, calf-male and female.
A mid-level BSF official posted in Assam's Dhubri, considered the most vulnerable smuggling spot among 33 areas along the border identified by the government, said nearly 90% cattle seized in 2015 in areas under the jurisdiction of his outpost were males.
"It is difficult to say right away how many of the cattle seized are cows and how many are bulls or oxen. But almost 90% of the 28,702 cattle seized in 2015 were males," the official told Hindustan Times.
"Smugglers we arrested said their clients across the Bangladesh border prefer bulls or oxen because they are meatier and tastier."
The seizure along the Indo-Bangladesh border also works as a good sample size since cattle from across north India is transported to the bordering states of India before being smuggled through the border.
"Dealing with transportation can solve much of the cattle-smuggling problem, particularly after trucks enter Assam at two highway points -- Boxirhat near Dhubri and Srirampur near Gossaigaon -- from West Bengal," said Longnit Terang, the police chief of Dhubri.
"There have been cases of cattle transporters armed with challans saying the consignment is destined for states such as Meghalaya and Nagaland. But the cattle are offloaded at various points on the way after vehicles carrying them enter Assam." These animals are then smuggled out to Bangladesh.
A bigger challenge in stopping illegal cattle trade is the number of stray cattle which are vulnerable to smuggling.
The last livestock census in 2012 estimated 5.28 million stray cattle in India, most of them in two states alone— Odisha (1.13 million) and Uttar Pradesh (1 million).
Personalise your news feed. Follow trending topics