Crackdown in Jammu and Kashmir on youth misusing social media to 'smear' cops
Updated on Apr 05, 2017 12:33 AM IST
Cops allege videos harm reputation of the force and government officials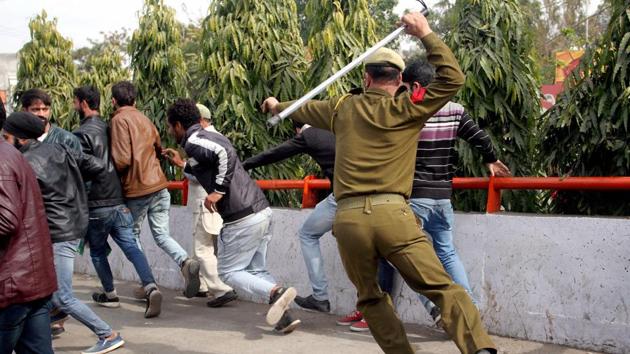 Hindustan Times, Srinagar |
Ashiq Hussain
The Jammu and Kashmir police have started a crackdown on youth in Kashmir who use social media to allegedly threaten police and other government officials or run a 'smear campaign' against them.
The police officials said they have identified seven persons coming under police stations like Pantha Chowk, Zakoora and Chanapora in Srinagar who threatened police and government functionaries through "their posts and uploads".
They added these miscreants allegedly uploaded and shared videos and posted them to "harm the repute" of the officers.
"Most of them have been arrested and we are ascertaining their motives," said SSP Srinagar Imtiyaz Parray.
He said the police officials are mostly targeted by these people. "Since cops are most visible, these people upload photos of police officers. It is kind of a smear campaign, trying to provoke people by saying that these are the officers who arrest stonepelters, or by levelling other allegations," Parray said.
He said most of these youth have a background of pelting stones on security forces. "They have been involved in law and order issues and are trying to create different forums against officers," he said.
The police will now examine their phones, logs and social media accounts to ascertain who else they were in touch with. The alleged social media campaign comes amid increasing number of incidents of militants storming houses of police officers and threatening their families. The SSP said such attacks may have emboldened these 'miscreants'.
The Jammu and Kashmir Police, across Kashmir, has now alerted its technical cells to monitor activities of these "miscreants" on the social media.
Personalise your news feed. Follow trending topics