Rafale row: After Rahul Gandhi's scathing attack on PM, BJP strikes back
After former France president Francois Hollande's remarks, the defence ministry said neither the Indian nor the French government was involved in the commercial decision.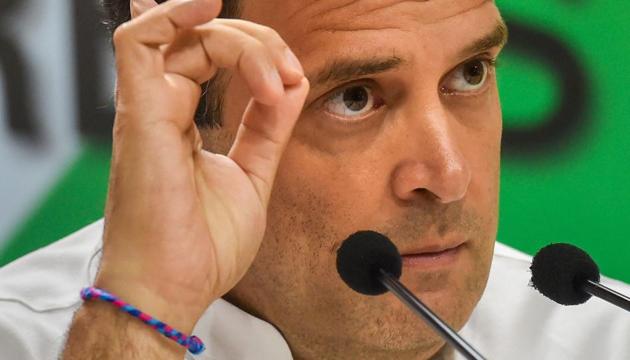 Updated on Sep 22, 2018 10:35 PM IST
Hindustan Times, New Delhi |
HT Correspondent
Prime Minister Narendra Modi must clarify his position and state whether Francois Hollande is lying, Congress president Rahul Gandhi said on Saturday, continuing a blistering attack on the government over the former French president's reported remarks on the Rafale jet deal. Gandhi alleged that there was "clear-cut corruption," drawing an angry response from the ruling Bharatiya Janata Party, with union minister Ravi Shankar Prasad condemning his comments as "shameful and irresponsible."
"For the first time, an ex-French President is calling our PM a thief," Gandhi said at a press conference held a day after Hollande was quoted by French website 'Mediapart' as saying that the Indian government proposed the name of Anil Ambani's Reliance Group as French company Dassault Aviation's offset partner for the multi-billion dollar Rafale deal.
"Why is the Prime Minister silent? It is a matter related to defence forces, it is a matter related to corruption," Gandhi said, demanding a joint parliamentary committee probe, where, he said, Hollande could testify.
"We are absolutely convinced that the Prime Minister is corrupt... He must clarify," Gandhi said, adding, "It is very important for the Prime Minister now to either accept Mr. Hollande's statement or state that Mr. Hollande is lying and tell what the truth is."
Ravi Shankar said no president of any party has ever used such language against a prime minister. He ruled out a joint parliamentary committee probe saying it could not be done to satisfy the ego of an "ill-informed leader".
Prasad alleged that there was pressure for extraneous considerations and "bribe" for not finalising the Rafale deal during the UPA rule despite holding negotiations for years, saying that Reliance and Dassault had entered into agreement as early as 2012 when UPA was in power.
"After the categoric statements of Dassault and French Govt, the lies of Rahul Gandhi & Congress leaders have been nailed," Prasad said.
Union home minister Rajnath Singh has warned the Congress chief to think "four times before levelling any baseless allegation. One should not make allegations without proof." The minister, who was addressing a meeting in Gujarat also said the government has issued a statement on the issue. "Let the verification of the report take place. It will clear the situation, it will reveal the truth."
The defence ministry said on Friday that the Mediapart interview was being verified. It also said that neither the Indian nor the French government was involved in the commercial decision in the Rafale deal. In a statement today, the ministry reiterated that and said, "Unnecessary controversies are being sought to be created following media reports regarding a statement purportedly made by the former French President, Francois Hollande, concerning the selection of Reliance Defence as the Offset partner by Dassault, the manufacturers of Rafale aircraft.
"The reported statement perhaps needs to be seen in its full context – where the French media has raised issues of conflict of interest involving persons close to the former President. His subsequent statements are also relevant in this regard."
In a statement issued late night on Friday, the French government said it was in no manner involved in the choice of Indian industrial partners for the Rafale fighter jet deal, asserting that French companies have the full freedom to select Indian firms for contracts.
Both the French government and Dassault said it was the company's choice to partner with the Reliance group. "This offsets contract is delivered in compliance with the Defence Procurement Procedure (DPP) 2016 regulations. In this framework, and in accordance with the policy of Make in India, Dassault Aviation has decided to make a partnership with India's Reliance Group. This is Dassault Aviation's choice, as CEO Eric Trappier had explained in an interview published in MINT newspaper on April 17, 2018," it said.
PM Modi had announced the procurement of a batch of 36 Rafale jets after holding talks with then French president Hollande on April 10, 2015 in Paris. This replaced an earlier decision of the previous Congress-led United Progressive Alliance government to buy 126 Rafale aircraft, 108 of which were to be made in India by the state-owned Hindustan Aeronautics Ltd.
Close Story