Day not far when BJP will try to change country's name: Mamata Banerjee
Indo Asian News Service, Kolkata |
Indo Asian News Service
Oct 17, 2017 12:02 AM IST
BJP leader Sangeet Som had said that the Taj Mahal was built by "invaders" and was a "blot" on Indian culture and history.
West Bengal chief minister Mamata Banerjee on Monday lashed out against BJP leader Sangeet Som's comments on the Taj Mahal, saying it was "a manifestation of the BJP's political agenda" and said the day was not far when the party will try to change the country's name as well.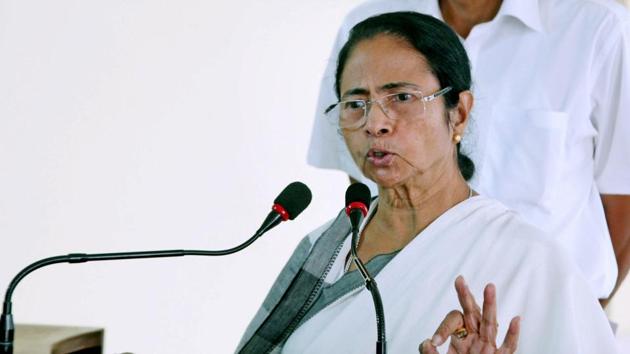 Som had said that the Taj Mahal - one of India's top tourist destinations and a world heritage site -- was built by "invaders" and was a "blot" on Indian culture and history.
Banerjee alleged that the BJP was coming up with such statements to "divide the people".
The Trinamool Congress chief said: "The less we talk about the BJP leaders the better. I feel ashamed to speak on comments made by them. They are not doing any development work, but only making divisive statements with a political agenda. We don't believe in dividing people like this."
"What the BJP is practising is not democracy, but autocracy. The day is not far away when the BJP will try to change the country's name to rewrite history."
The chief minister said India was a vast country with multiplicity of race, caste, creed, and religion. "We can't make any comment which goes against the country's unity and integrity. It is a manifestation of their political agenda."
"It rails against India's heritage, age-old values".
"How can they say this building is bult by the Hindus and this building is constructed by the Muslims or Christians?"
Som, known for his inflammatory speeches and accused of instigating the deadly Muzzafarnagar riots in 2013, triggered a fresh row by his remarks on the Taj Mahal.
The controversial BJP lawmaker from Sardhana in Meerut also misquoted history by saying that Shah Jahan, who built the 17th century marble mausoleum in memory of his beloved wife Mumtaz Mahal, had jailed his father and wanted to wipe out the existence of Hindus from the country.
His remarks at a rally in Meerut on Sunday came days after the Uttar Pradesh government removed the Taj Mahal -- one of the Seven Wonders of the World and a UNESCO World Heritage site -- from the list of attractions in its tourism booklet.