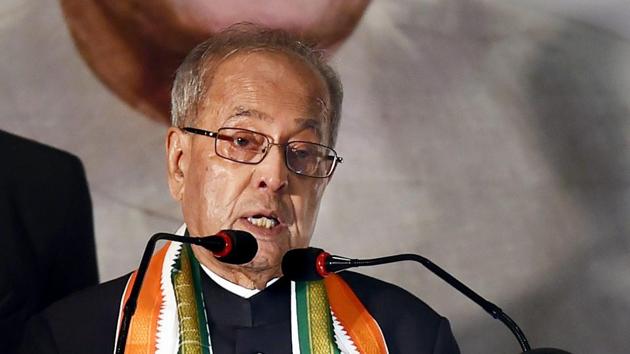 Delhi high court judge recuses herself from Pranab Mukherjee case
Without citing any reason, Justice Pratibha M Singh in an order said "subject to the orders of the acting Chief Justice, list this matter before another bench."
Hindustan Times, New Delhi | By Richa Banka
UPDATED ON APR 06, 2018 11:42 PM IST
The Delhi high court was witness to high drama on Friday when justice Pratibha Singh passed an oral order giving notice to former President Pranab Mukherjee before subsequently withdrawing it and recusing herself from a case seeking the deletion of portions of Mukherjee's book 'Turbulent Years 1980-1996' referring to the 1992 demolition of the Babri Masjid in Ayodhya.
The case was filed by a social worker and a group of lawyers who objected to the references, contending that they hurt the sentiments of Hindus.
In the morning, justice Singh passed an oral order issuing notice to Mukherjee . Towards the late afternoon, the single judge recused herself from the case without specifying a reason and passed a written order that read: "Subject to the orders of the Hon'ble Acting Chief Justice, list this matter before another Bench."
The bench set the next hearing for April 9. In the morning, it had set a July 30 date.
It is the customary practice among judges to pass an oral order in their courtrooms and towards the end of the day sign the orders. In this case, too, justice Singh passed an oral order in her courtroom, but when the written order came, it was diametrically opposite to what was said in the courtroom. It was the second hearing on the matter.
Vishnu Kumar Jain, counsel for the petitioner, said that he was called by the judge at 3.15 p.m. to her chamber. "She told me that she is recusing herself from the case and hence the matter will be listed before some other bench," Jain said. He did not disclose the reason given by the judge for the recusal.
The petition in the case came as an appeal against an earlier order by a trial court that rejected the plaint seeking deletion of references made in the book.
The plea claimed that the book written by former president Mukherjee had become "controversial in the public". It alleged that Muslims at large were quoting passages from the book to assert that the former President of India had declared the disputed structure in Ayodhya was Babri Masjid. It was alleged that some references made in the book were contemptuous and lowered the dignity of the Indian judiciary.
"It is also clear that some facts stated in the book are based due to the prejudice of the author based on his political ideologies and even incorrect facts have been given therein intentionally to criticize and demoralise the Hindu organizations and supporters of Sri Ram Janam Bhoomi Temple," the plea said.
"The author has tried to establish against record that the building complex was a mosque without caring about the court proceedings. The book is being filed along with the suit for proper appreciation of the case," it contended.
Close