Demonetisation an 'unnecessary adventure': Manmohan Singh
Sep 22, 2017 10:03 PM IST
Manmohan Singh's comments came amid a renewed debate over the efficacy of the BJP-led government's ban on Rs 500 and Rs 1000 notes.
Former Prime Minister Manmohan Singh on Friday described demonetisation as an "unnecessary adventure" and said such moves had not succeeded anywhere in the world except some Latin American and African nations.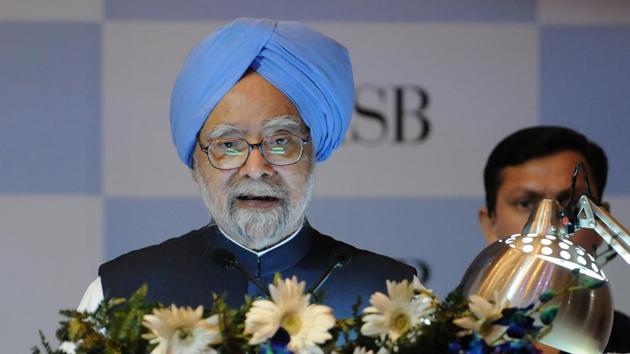 Singh's comments came amid a renewed debate over the efficacy of the BJP-led government's ban on Rs 500 and Rs 1000 notes, with then RBI governor Raghuram Rajan too recently speaking out againt the move.
Stay tuned with breaking news on HT Channel on Facebook.
Join Now
"I don't think it was technically and economically necessary to launch this adventure. If 86% of country currency is withdrawn from the system then there is bound to be a fallout," Singh told a gathering of students, faculty and professionals at the Indian School of Business in Mohali.
Singh said the economy slowed down due to demonetisation as well glitches in the implementation of the Goods and Service tax (GST) regime.
In the last quarter of 2016-17, the growth rate of GDP was 6.1% as compared to 5.7% in the first quarter of 2017-18, he said, months after a forceful speech in Parliament when he described demonetisation as a "monumental mismanagement" and predicted that it might shave at least 2 percentage points off India's economic growth rate.
"We must grow at 7 to 8% to resolve our development issues," he added.
Earlier this month, Rajan estimated that the country's GDP had taken a hit of between 1% to 2% due to demonetisation, which translated to a sum of around Rs 2 lakh crore.
The former Prime Minister said authoritarian responses cannot solve the real problems of the people or make life worth living.
"Promotion of scientific temper, respect for dissent and a society governed by the rule of law are an integral part of the value system of a democratic polity," Singh said, in what is being seen as a swipe at the Narendra Modi government.
Quoting Nobel winning scientist, Venkatraman Ramakrishnan, Singh said if India has to solve its development problems of poverty, ignorance, unemployment, it has to lay more emphasis on science and innovation.
"I further suggest that greater use of science and technology will increase agricultural productivity, increase competitiveness of small and medium enterprises and improve the quality of governance so as to better the ease of doing business in our country,'' said the former PM who is credited with opening up India's economy as the Union finance minister in 1991.
An acclaimed economist, Singh also said the economic policies of the past 25 years, which have resulted in significant development in India, have proved sceptics wrong about the concept of liberalisation.
"At that time, there were many people who were sceptical about the success of the new policies. However, we have proved them wrong. It is indeed a matter of pride that inspite of many changes in government at the political level, the broad thrust and direction of economic policies have remained unchanged in the last 25 years," he added.