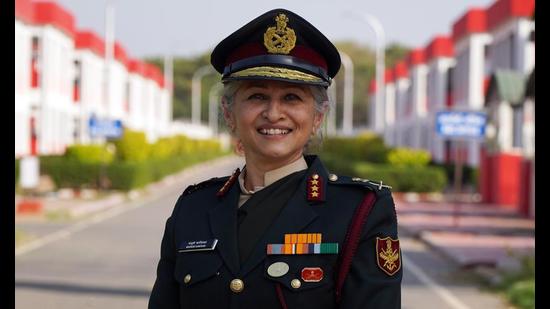 Didn't expect a bed of roses, but the armed forces groomed me: Lieutenant General Madhuri Kanitkar
Lieutenant General Madhuri Kanitkar, the senior most woman officer in the Indian Army, talks about how the armed forces are now gradually seeing an increase in the presence of female youngsters.
By Aprajita Sharad
, New Delhi
UPDATED ON MAR 06, 2021 09:55 PM IST
Her journey in the Indian Army began at a time when cadets still marched in traditional sarees to become officers. Clad in a smart uniform with her hair up in a bun, Lieutenant General Madhuri Kanitkar's (AVSM, VSM) voice asking everyone, "How's the Josh?!" reverberated through the NCC auditorium filled with cadets and officers of the armed forces attending the exclusive screening of National Geographic's Women's Day special film - Women of honour : Destination Army. Being the senior most woman officer in the Indian Army, Kanitkar is the third woman to attain this position. Serving in the defence for a span of thirty seven years in capacity of a medical professional, Dr Kanitkar's life hasn't exactly been a bed of roses. "When you're working in any job the challenge is to balance your family and professional life. In the army it probably compounds more because you're always on the move because of postings, and you're moving your children and your family too and if you don't have your spouse with you the difficulties seem more," shares Kanitkar who had to stay away from her husband to serve the nation for many years.
Not one to accept defeat, Kanitkar's journey as a woman officer in the armed forces to rising to such a celebratory rank was successful because of her resilient attitude of taking everything in her stride! "Every time there was a challenge, I overcame it and said to myself 'Ab yeh karliya toh ab main kuch bhi kar sakti hun,' till the next challenge came and then the next, until today when I look back and say I think it was all worth it," she shares adding, "Today the Army's processes are so pro women! Postings are helped out. 24 years me and my husband were not posted together but I stand here being an empowered woman because I have the support of the army and my husband and I think that is what is important. And with each of these challenges I felt that I was becoming a stronger person."
When Kanitkar joined the armed forces, which still remains to be a feel dominated by male presence, was she mentally prepared for every challenge that would come her way and as an organisation, is the Indian Army gender sensitive? "I feel I came in the Indian army with my eyes open and I was not expecting a bed of roses so there were difficult times but the armed forces groomed me. It's an organisation which toughens you and gives you an opportunity to become an officer, remain a lady, do your profession, and the whole nation looks up to you. Indian army is one of the most respected organisation, it's the safest places to work in and you're really respected. You're respected not for a women, you're respected as an individual as an officer and then you're also a women," shares Kanitkar.
It's natural to wonder how it feels to be a woman in a force where you're surrounded by men at high ranks in a field that tests your mental resilience and physical strength. The armed forces is now slowly seeing an increase in the presence of female youngsters, "Your gender doesn't matter. Soldier doesn't have a gender. When I was the dean, the dean did not have a gender. Gender is something in our mind but we use that gender because that gender is power. We have an extra X chromosome. We have the ability to multi task and a fire in our belly and we are here to prove that we can do everything along side with our dream."
Author tweets @fizzybuddha
Close