Market is ready for a global Indian TV channel: I&B minister Smriti Irani
Feb 13, 2018 04:18 PM IST
Union information & broadcasting minister Smriti Irani said Doordarshan's quality of content has to improve significantly for it to compete with private news, but added that Prasar Bharti has the kind of infrastructure and reach that cannot be matched by private broadcasters.
Union information and broadcasting minister Smriti Irani said the timing is right, and the market ready, for the state-owned broadcaster to launch a news channel focused on India for the international market, although she added that no decision has been taken on this yet.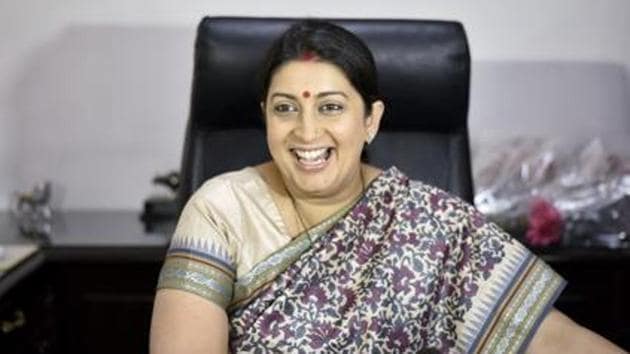 In an interview with Shishir Gupta and R Sukumar, Irani added that Doordarshan's quality of content has to improve significantly for it to compete with private news and general entertainment channels, but added that Prasar Bharti (Doordarshan's parent body) has the kind of infrastructure and reach that cannot be matched by private broadcasters.
What are your big priorities for I&B?
Many regulations have lapsed. We have to minimise the interference of the government, but because I&B is a sensitive area, there are many regulations that need to be reviewed. Second, I need to increase the efficiency of how we work, because this is the first time in the history of the I&B ministry that we have eight zones specially set up (as communication hubs for the government). Zone-wise, state-wise, our communication has to be strengthened.
Third, my big focus is on communication in local and regional languages.
And I am hoping that the CEO of Prasar Bharti can make some big-bang changes.
Most countries have lots of private channels but they also have a good public service broadcaster. What will it take for Doordarshan to grow into that?
The quality has to improve. Doordarshan has to compete with private news and general entertainment channels. I know that the Prasar Bharti CEO Shashi Shekhar Vempati wants to enhance the quality of content. No other channel has the kind of reach Doordarshan has. The one thing Prasar Bharti has, which no other media company does, is infrastructure that touches each part of the country.
Are you happy with BARC? It doesn't really seem to be capturing this reach.
I have said time and again that the data needs to be democratised — that data cannot have only have a few masters. It is this data that helps fund channels and programmes. It is this data that drives what the viewer consumes. Advertising decisions are based on this data. The kind of programmes produced is based on this data. If the data is opaque, it leaves many questions unanswered. But I am not in the habit of casting aspersions without having facts at hand. The facts at hand are simply that we do not have details on many aspects related to BARC (Broadcast Audience Research Council), and when BARC gives us that information I can make a more informed decision. As things stand, there's very little understanding of BARC in the public domain. That is why, when I first spoke of BARC as I&B minister, I said there have to be more voices from regional media and language-based media houses — editors, creators. If done well… On Budget Day, when DD was the only channel with the finance minister and ministry officials, we saw a 582% growth in viewership.
News reports have said that you are thinking of expanding the reach of DD News to over 100 countries but there is talk that you are considering an international, high quality DD news channel…
If we do something like this, we will also have to involve the ministry of external affairs, but there is no decision on this. Yes, the timing is right to do something like this, and the market also seems to be ready.
There's some amount of oversight on newspapers through the Registrar of Newspapers and on TV. Are you thinking of regulating news websites?
There was a cabinet decision in 2008 on IPTV (internet protocol television) regulation in India (which might have a bearing on regulation of digital content). Since then, not much has happened. These are issues on which we are currently in conversation with Trai (Telecom Regulatory Authority of India), so I won't be able to say much more. But I am aware that many a time it is easy to open a website and claim it is a news website, but use it as a political tool.
Is fake news something you want to address in a macro way?
I think technology is a great leveller and fake news gets called out by social media very well, and gets called out with evidence.
You've also sought to control how government advertising is spent…
That's a misconception. Government departments and ministries decide how much they want to spend and where they want to spend it. We just become the channel for implementing it. To say I&B decides who spends what and where is an anomaly.
Let me tell you how I changed this. When I took over, I asked the departments where they gave their compulsory Independence Day and Republic Day ads. This is something DAVP (Directorate of Advertising and Visual Publicity) does. I said that only newspapers that are conscientious about how they run their business need to be given those ads. There is an annual statement every newspaper has to file with RNI (Registrar of Newspapers for India). Those that have been consistent in filing this, and have therefore been transparent and conscientious about their business, their infrastructure, their declarations — they should be given these ads. When I did this, the number of newspapers receiving these ads came down from around 2,000 to 500. Now, everyone in the media business knows you have to fulfil your obligations to RNI to get these ads.
How have you changed the Press Information Bureau?
There is a myopic view of what is the outreach bureau for the government. You have a department of field publicity. You have DAVP. You have RNI. You have a song and drama division. You have a films division. There are many ways for the government to engage with people around the country. Secondly, outreach happens in every zone of this country. Previously, outreach used to be largely restricted to Delhi. For the first time, we have created eight zones where we have a senior officer who has spent at least two decades in Delhi, well-versed with every aspect of government, leading the outreach.
Ultimately what we wanted were communication hubs in eight parts of the country; every state capital has been covered; apart from that we are trying to reach out to every citizen platform we can have a conversation on; the intent is dialogue and deliberation in every language and across the country.
Some of the changes have not gone down well, especially among the people transferred?
There's largely been talk of transfers but I have also promoted eight additional director generals and sent requests for the promotion of five more DGs.
There is talk that you are thinking of having TV channels auctioned, the same way we have FM stations auctioned.
Am I? Till I don't take a decision…
We are told Trai is looking at this.
Trai is not the ministry.
Would you consider something like this?
I would only tell you when I am ready to make an announcement.
There is some angst over the live coverage fee (Rs 1 lakh per day) for the uplinking of live events.
This is a fee that was not updated since 2009. I just reviewed it. I think it is a fair increase given inflation and growth. My job is to better systems.
What are your views on freedom of expression?
In a country where we celebrate a free and fair press, to say the press has to present news in a particular format would be the biggest disservice we do to the idea of a free press. There are many news channels, editors, journalists, who report fairly, sensitively.
But there are times when anti-Modi becomes anti-India and people don't realise they have crossed that line. That's a matter of concern, but as I&B minister will I muzzle those voices? No. Like I said technology is a great leveller (when it comes to fact-checking). Citizens are great levelers. That is also why it is incumbent upon us to increase the efficacy of DD News, of news that comes without an agenda.
Do you react to what you see on TV?
No, because my reaction makes news.
"Exciting news! Hindustan Times is now on WhatsApp Channels
Subscribe today by clicking the link and stay updated with the latest news!"
Click here!
Get
Latest India News
along with
Latest News
and
Top Headlines
from India and around the world