End casteism, we will forego reservation, says minister Ramdas Athawale
Hindustan Times, New Delhi |
B Vijay Murty
Nov 02, 2018 10:18 AM IST
"I have been demanding reservation in the armed forces for a long time. If there is reservation, more people from the backward classes will sign up", says MoS for social justice and empowerment Ramdas Athawale in a freewheeling interview with B Vijay Murthy.
Ramdas Athawale, minister of state for social justice and empowerment in the Modi government, is an outspoken politician from Maharashtra who doesn't hesitate to call a spade a spade. A champion of scheduled caste and tribal rights, the Republican Party of India-A president has raised several controversial demands, including permission for Dalits to possess arms for self-protection and reservation for scheduled castes and backwards in the armed forces. He has encouraged inter-caste marriages as a way to end casteism and suggested that Dalits embrace Buddhism. In a freewheeling interview with B Vijay Murty, he spoke on a range of issues. Edited excerpts: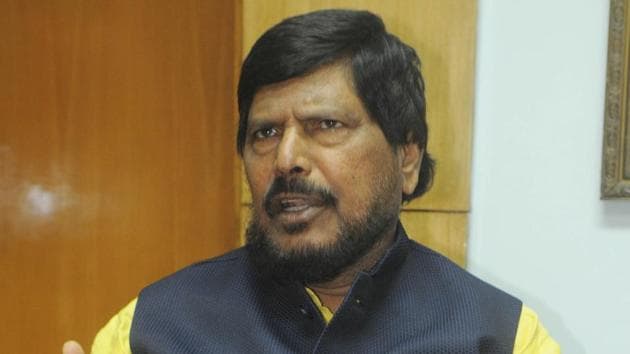 Left insurgency, whose genesis is in the class and caste war, continues to pose a major internal security threat. What's your message to Maoists?
Shun violence and join the mainstream. If we continue fighting, all of us will be dead. Instead, become an Ambedkarite (a BR Ambedkar follower). Don't do injustice and do not accept it. Fight for your rights (democratically). Because of his caste, Ambedkar was not allowed inside the classroom. Instead, he was made to sit on the floor near the door. But he did not give up. He gained education and fought back, bringing several social reforms. Maoists should join the mainstream and fight elections if they want to fight and change the system.
What's your take on urban Naxals?
Investigations by credible security and intelligence agencies have confirmed that in cities there are individuals and groups who extend various kinds of support to the Maoists operating from the jungles. Some of them planned to assassinate Prime Minister Narendra Modi. Now this is not acceptable. I have been a revolutionary throughout my life and have fought various policies of the government, particularly those related to protecting rights of Dalits, tribals and weaker sections of society. But I was never arrested for those reasons. Always attack upfront, do not backstab.
How just is your demand for reservation for SC/STs and backward classes in the armed forces?
I have been demanding reservation in the armed forces for a long time. If there is reservation, more people from the backward classes will sign up. You get to eat good food and also drink good alcohol. Is that not a better option than drinking country liquor?
You have also supported reservation for the upper castes?
Yes, I did, and I shall continue to support the cause of the poor from this section. The social engineering started by Ambedkar is now showing results. Not long back, people from backward communities would shy away from speaking about their caste in public, fearing humiliation and torture, let alone raise a voice for quota. Today, the upper castes are also vying for reservation.
The government has the power to amend the Constitution. It can accommodate such demands without disturbing the existing quota provisions.
But don't you think reservation should end sooner or later in the larger interest of the nation?
End the rampant casteism prevalent in our society and we are ready to forego reservation. And for that, society needs to promote inter-caste marriages. I have married a Brahmin. I wish others follow suit and contribute to ending casteism .
You have been strongly advocating BJP-Shiv Sena bonhomie despite the widening gap between them. Do you think they will re-align for the 2019 general elections?
Yes, BJP and Shiv Sena should, and hopefully they will come together again soon. The two parties got a good number of seats in the assembly polls and if they fight together, they can win at least 42 seats in the 2019 general elections. Their coming to together will script a powerful re-alignment.
Suddenly, there is a rush to change names of railway stations, cities and towns in BJP-ruled states. Does your party support it?
When Mayawati (Bahujan Samaj Party chief) was in power, she had changed the names of some places to Ambedkarnagar, Phule Nagar, etc. But I personally do not support change of names if it has the potential to foment trouble or create controversy. Muslims in India were Hindus who converted during Mughal rule. Similarly, during the 150 years of British rule, many converted to Christianity. That's the beauty of this country that follows the principles of Sarva Dharma Sambhava.
How do you view the attacks on north Indians in Gujarat and Maharashtra?
We were very vocal about criticising such incidents in Maharashtra when Raj Thackeray's men (Maharashtra Navnirman Sena) were targeting north Indians.