Ex-serviceman accuses Jammu BJP legislator of abducting daughter, she refutes
Press Trust of India, Jammu |
Press Trust of India
Jun 25, 2018 09:25 AM IST
The girl claims that the MLA is a good person and that she is facing "death threat" from her family which wanted to marry her to a person against her wishes.
An ex-serviceman accused a BJP legislator of abducting his daughter in Jammu and Kashmir on Sunday, a charge denied by the girl as well as the politician who termed the allegation as an attempt to defame him.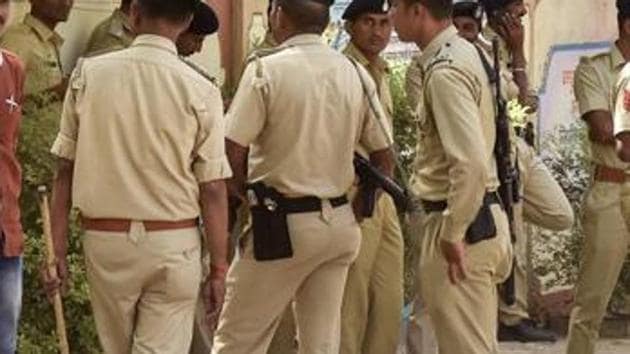 In a dramatic turn of events, the girl appeared before a select group of media persons on Sunday, hours after her father levelled the charges, and refuted the allegation of her being kidnapped by RS Pura BJP MLA Gagan Bhagat and said he is a good person and she is living with a friend.
She also claimed that she is facing "death threat" from her family which wanted to marry her to a person against her wishes.
The girl said nobody kidnapped her.
"I am before you and nobody kidnapped me. The allegations are fake. He (MLA) is a very good person. My family are supporters of PDP and may be that is the reason... They are forcing me to marry someone who has not even clear his 12th class while as I am doing BAMS," she said.
Responding to the questions, the girl said she was in regular touch with her family and even talked to them in the morning before they staged the protest.
"I am studying outside the state and even my family members used to visit me in the college. I visited my home last time in the winter holidays," she said.
She said her family know the fact that she is in Jammu at a friends house.
Earlier, senior superintendent of police (Jammu) Vivek Gupta said no formal complaint was lodged so far in this case and once "a complaint is filed, we will take appropriate action".
Ex-serviceman Rajinder Singh, along with his father and several neighbours from RS Pura constituency, had staged a protest outside Press Club Jammu, claiming that his daughter who was pursuing her studies at a college in Punjab was abducted by their local BJP MLA Bhagat.
"My daughter got admission in Desh Bhagat University, Punjab, after I approached the legislator. She was in the first year of Bachelor of Ayurvedic Medicine and Surgery (BAMS) course. I visited her on June 21 to take her home in view of the summer vacation but came to know that she was already taken by the MLA on March 8 without informing us," said Singh, a resident of Kalyana village of RS Pura.
Reacting to the claim, Bhagat said the "allegations are baseless and motivated, aimed at defaming" his public image.
"These are baseless allegations. Instead of lodging a police complaint, if somebody holds a protest then there is a motive behind it. Going straight to the media to level wild allegations was aimed at defaming me," he told reporters at a hurriedly convened press conference late this evening.
The RS Pura MLA said if the allegations were proved right, he will resign as a legislator.
Bhagat said the girl had probably not come home due to some "pressure" and "I am sure the truth will prevail".
"The family is unnecessarily defaming their daughter. If he (girl's father) is saying that he is a soldier, my grandfather was also a soldier and he is not doing any favour," the BJP MLA said.
Admitting contact with the girl, he said "being a public representative, it is my duty to reach out to the people of my constituency".
Bhagat said based on her statement in his favour, he would file a defamation suit against all those who levelled allegations against him.
Terming it as a "well though-out conspiracy to defame him", Bhagat said "some people are playing dirty politics."