Ex-army chief Gen Kapoor, other veterans march with Rahul during Bharat Jodo
Jan 08, 2023 06:59 PM IST
The Bharat Jodo Yatra concludes later this month in Jammu and Kashmir.
The Congress's Bharat Jodo Yatra on Sunday saw the presence of former Chief of Army Staff General Deepak Kapoor and other veterans as it traversed through Haryana. Rahul Gandhi was seen greeting the ex-army officers as he continued to lead the march for the grand old party's mass contact programme, which will conclude later this month in Jammu and Kashmir's Srinagar. "Many senior army former officers including ex-Chief of Army Staff General Deepak Kapoor, Lt General RK Hooda, Lt General VK Narula, AM PS Bhangu, Major General Satbir Singh Chaudhary, Maj General Dharmender Singh, Colonel Jitender Gill, Colonel Pushpender Singh, Lt General DDS Sandhu, Major General Bishamber Dayal, Colonel Rohit Chaudhry joined the Bharat Jodo Yatra in Haryana," tweeted Congress MP Manickam Tagore along with the pictures.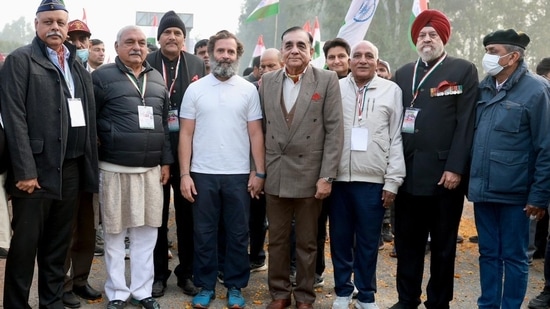 General Deepak Kapoor had served as the Chief of Army Staff on 30 September 2007 and as Chairman, Chiefs of Staff Committee on 31 August 2009. He and other veterans have joined the list of many eminent personalities who have marched with Rahul Gandhi during the foot march, which began in September from Kanyakumari. Former RBI governor Raghuram Rajan, ex-RAW chief AS Dulat, actor-politician Kamal Haasan, actors Pooja Bhatt and Swara Bhasker have also been seen marching alongside the Congress leaders. On Saturday, boxer Vijender Singh - who hails from Haryana - also joined Gandhi in Karnal. Along with them walked Priyanka Gandhi Vadra's pet dog - Luna.
Meanwhile, the Congress has been holding the mass contact programme in a bid to rekindle its connect with the masses after it faced multiple election defeats over the last eight years or so.
On Sunday, Rahul Gandhi - at a presser - stressed that the Yatra has been received well in the Hindi-belt states too. At least nine states are due to vote in the coming months before the nation gears up to hold the 2024 national elections.
While the Congress recently returned to power in Himachal Pradesh, it is yet to be seen if it would be able to revive its electoral fortunes in other parts of the country too.