Oppn split in sight? Speculations fly as Nitish picks Modi lunch over Sonia meet
Updated on May 27, 2017 02:33 PM IST
JD-U spokespersons insisted that the Bihar chief minister's acceptance of Narendra Modi's invite was mostly out of respect for the Mauritian premier, in whose honour the lunch is being held.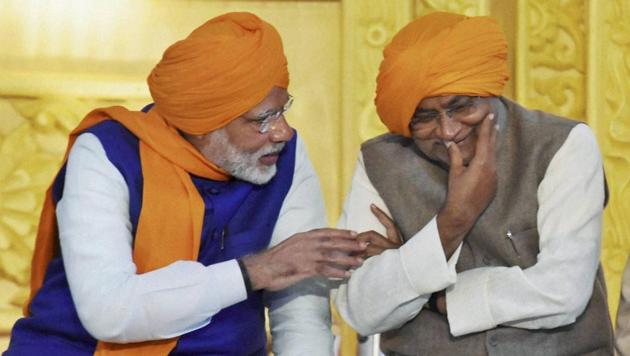 Patna Bihar chief minister Nitish Kumar has accepted an invite to a luncheon planned by Prime Minister Narendra Modi in honour of Mauritian premier Pravind Jugnauth on Saturday, setting off speculation that the Janata Dal United (JD-U) is on the verge of breaking away from the Grand Alliance.
Reports of Kumar's planned visit to New Delhi come on the heels of his decision to skip an Opposition meeting convened by Congress president Sonia Gandhi on Friday to settle on a consensus candidate for the upcoming presidential elections. While party national president Sharad Yadav attended in his place, RJD chief Lalu Prasad said he was also representing the Bihar chief minister in his capacity as the "big brother" in the Bihar alliance.
Even as television footage showed Prasad sitting with Congress president Sonia Gandhi and former prime minister Dr Manmohan Singh, JD-U spokespersons Ajay Alok and Pawan Varma insisted that Kumar's acceptance of Modi's invite was mostly out of respect for representatives of the island nation. "There's nothing surprising or abnormal about Bihar's emotional and historical bond with Mauritius, considering that 50% of the island nation's people have their roots in the state," said Varma, dismissing speculation that Kumar was on the verge of leaving the alliance.
JD-U sources said Kumar has already participated in two meetings with Gandhi, during which he insisted on wider Opposition unity ahead of the 2019 Lok Sabha polls. He had also discussed the matter with Left leaders in Kolkata in February, party leader KC Tyagi further pointed out.
Kumar himself was unfazed, saying, "I would be discussing desiltation of the Ganga with the PM. In any case, I have met the Congress president twice and Sharad Yadav is already attending the meet. The invitation was to parties, not individuals"
While JD-U spokesperson Neeraj Kumar claimed Kumar could not attend Gandhi's meeting in Delhi due to prior engagements in Patna, including a vital cabinet meet, senior state BJP leader Sushil Kumar Modi has said, "It is obvious that Kumar cannot continue with a scam-tainted ally such as Lalu Prasad. It is an alliance of contradictions, and thereby untenable," he said.
However, even though many JD-U and BJP leaders said Kumar did not want to be seen with Prasad in view of recent land-grab allegations levelled against the RJD leader's relatives, there is a strong view that he might not rejoin the NDA just yet.
The Grand alliance narrative in Bihar has been derailed, with Kumar facing difficulties in shuffling bureaucrats and top police officers, and insiders alleging pressure from the Lalu camp to nominate RJD-friendly officers to crucial positions. This has bogged down governance with orders and counter-orders galore from "influential wings", as officers put it.
The JD-U officially stated that Kumar was the force behind the meeting of Opposition parties in Delhi – although he, unfortunately, could not attend it. When asked why the JD-U is yet to take a stand on the recent RJD-related controversies, Varma said: "The chief minister has already said that inquiries into the allegations are in the realm of central agencies, and the law will take its own course. As for the governmental tie-up, there have been no extraordinary developments that merit speculation."
BJP leaders, however, point at various incidents that indicate a warming of relations between Kumar and the NDA. While Kumar stood by the Prime Minister on demonetisation despite the RJD's rebuff and even called for a war against illegal transactions, Modi termed Kumar's prohibition initiative as a "brave move that few politicians would have risked". Moreover, the Prime Minister had praised Kumar for the grand arrangements made for the 350th birth anniversary of Guru Gobind Singh at Patna Saheb on January 5.
While the JD-U continues to blast the Centre for not keeping its word on providing central allocations to ease Bihar's financial woes, Kumar's emphasis on political principles (which, incidentally, was the cause for his split with the BJP after Modi was nominated as its prime ministerial candidate) may just bring about yet another tie-up with the NDA.
Such a possibility would become even more imminent if the RJD scam gets murkier, or if his emergence as the possible candidate of a united Opposition against Modi comes into question.
.
Personalise your news feed. Follow trending topics