Kashmir: Army major among four soldiers killed in two separate encounters
Updated on Feb 14, 2017 10:42 PM IST
There have been three encounters in Kashmir since Sunday.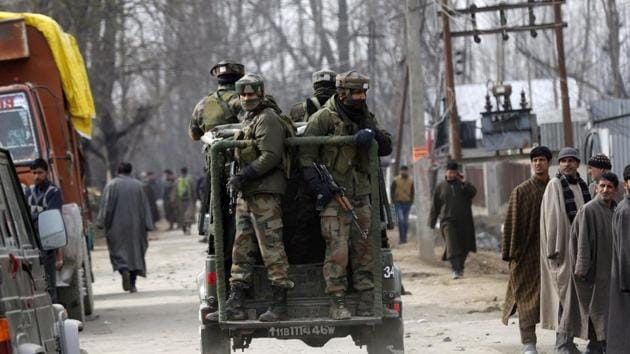 An army major was among four soldiers killed in two encounters in Kashmir where an equal number of militants were neutralised on Tuesday.
In an encounter in the afternoon in north Kashmir's Handwara three militants were gunned down while Major Satish Dhaiya who was injured later died in hospital.
Deputy inspector general of police, north Kashmir, Nitish Kumar told Hindustan Times that during the cordon and search operation, militants fired from the house they were hiding. The security forces returned the fire.
Shortly after the encounter, the army said Major Dahiya had been evacuated.
Late Tuesday night, a Srinagar-based army spokesperson said that Major Dhaiya who was leading the operation in Handwara succumbed to his injuries.
Earlier in the morning, one militant and three soldiers were killed in a gunfight in northern Kashmir's Bandipora in the morning, police and army said.
"Three soldiers have been martyred and five others are injured. The operation has been terminated," the army spokesperson said.
The gunfight started at 5.30 am after security forces launched a search operation after being tipped off about the presence of militants in Hajin area.
Police said that the slain militant belonged to the Lashkar-e-Taiba (LeT) and was a foreigner.
The Army said the three soldiers who were killed were paratrooper Dharmendra Kumar of Uttarakhand, rifleman Ravi Kumar of Jammu and Kashmir, and gunner Astosh Kumar of Uttar Pradesh.
There have been three encounters in Kashmir since Sunday.
Two soldiers, two civilians and four militants were killed on Sunday in south Kashmir's Kulgam district.
One of the civilians was killed when the police opened fire to disperse people protesting against the death of militants, who hailed from south Kashmir, and the other was caught in the crossfire during the encounter.
The situation in the Valley has worsened after Sunday's violence, and a shutdown was called on Monday by the separatist leadership in protest against the civilian deaths.
On Wednesday, there is a Kulgam Chalo march called by the separatist leaders.
Close Story
Personalise your news feed. Follow trending topics