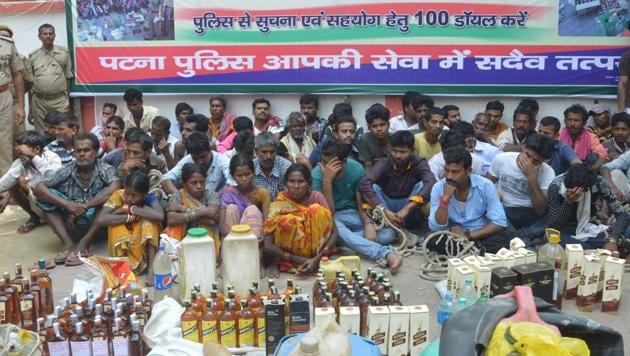 From 'pure milk' to 'bechara', how people dodge liquor ban in Bihar
In urban areas of the state, "pure milk" is the code used for Indian Made Foreign Liquor, and in rural areas, country liquor is identified as "bechara".
UPDATED ON APR 05, 2018 02:27 PM IST
To dodge the ban on alcohol in Bihar, you need very little: A code word and the right amount of cash.
A family in northeast Bihar's Purnia learnt this recently.
While preparing for a wedding in the family last month, relatives of the bride were initially worried about the absence of free-flowing liquor that is a signature of marriage processions in the region. But they called up a few local strongmen, who assured them that the liquor supply will be unhindered even in a public place. An order of several bottles of Indian Made Foreign Liquor (IMFL) was made a week in advance.
"Liquor is easily available. You only need to know the right code to procure it," said a family member of the bride, on the condition of anonymity. "We just had to pay Rs 1,200 for every bottle, instead of the retail price of Rs 600."
Bihar prohibited the sale of alcohol across the state two years ago, and instituted stringent punishments for those found drinking, distributing or storing liquor – including jail time of up to 10 years. But on the ground, alcohol is available easily, often delivered at home for inflated prices, taking the edge off the ban.
To make the exchange easier, code words are used.
In urban areas, for example, "pure milk" is the code used for IMFL, and in rural areas, country liquor is identified as "bechara". There are region-specific codes too — Jahangir, Fakruddin, Ghafoor in Muslim-dominated areas of Seemanchal and Nepal in Araria.
"The demand for delivery of one litre of pure milk meant that the customer had ordered a large bottle of liquor," said a police officer on condition of anonymity.
Local residents allege that the clandestine trade was facilitated by political clout and the support of policemen. Two sub-inspectors, Ramashish Singh and Bhagwan Singh, who were posted at Kazi Mohammadpur police station of Muzaffarpur were dismissed on July 24, 2017 "for consuming liquor and providing shelter to bootleggers." Another S-I, Shyam Behari Singh was dismissed from service on March 8, 2018 on similar charges.
Additional director general of police (headquarters) Sanjiv Kumar Singhal admitted some police connivance.
"So far, we have taken action against 361 police personnel, of which, several have been dismissed. To tackle bootleggers, we have started to monitor the mobile calls of suspected people involved in liquor supply," he said.
Country-made liquor also continues to flow freely, resulting in at least 30 deaths and tragedies over the last two years. After four men died in eastern Bihar's Rohtas last October, Rashtriya Janata Dal (RJD) president Lalu Prasad described prohibition as a "big failure".
"Liquor was being delivered at doorsteps and policemen were making quick bucks," he said.
The Bihar excise department denied any such clandestine delivery system.
Data from the state government says more than 2.3 million litres of liquor have been seized since prohibition was imposed in April 2016 but a senior police officer, speaking on the condition of anonymity, said this figure was a fraction of the actual consignments of illegal alcohol in the state.
"Smuggling has increased but we are conducting raids on a small scale as we fear recoveries might land us in trouble," the officer added. For example, against a seizure of 243,45 litres of alcohol in Kaimur and Rohtas districts between April 2016 and March 2017, the data shows recovery of just 1,479 litres between April 2017 and December 2017.
There are other ways to get alcohol. Many people cross over to the districts of Ballia, Ghazipur, Chandauli, Mirzapur and Sonbhadra in neighbouring Uttar Pradesh over the weekend.
A young man from Chainpur, who said he frequented UP for liquor, said a quarter of a popular whisky brand is sold in Kaimur for Rs 300-350 on the black market, while it is available in UP for just Rs 160-170. "Also, there is a risk of the product you get here being adulterated," he said on the condition of anonymity. "I spend Rs 73 to fill a litre of petrol in my motorcycle to visit Chandauli in UP and return after my drink. It is even cheaper if one travels by bus," he said.
On the other side of the state, West Bengal serves as a watering hole as well. Small towns at the border of Bengal and Bihar see hundreds of people crossing over during the weekend. Small hotels, liquor shops and associated businesses have propped up in nondescript towns such as Dalkhola in north Dinajpur district of West Bengal, which now has frequent traffic jams because of visitors from the Purnia, Katihar, Araria, and Kishanganj districts of Bihar. Liquor store owners in the state are laughing all the way to the bank and the state's finances are buoyed, prompting the West Bengal government to project an excise revenue increase of 80% next year – up from the traditionally conservative 10-12% projected increase.
(With inputs from Aditya Nath Jha in Purnia , Prasun K Mishra in Bhabua, Ajay Kumar in Muzaffarpur and Rajesh Kumar Thakur in Hajipur)
Close