Funds raised by Telangana ministers as 'labourers' comes under legal scrutiny
Published on Jan 24, 2018 07:21 PM IST
A complaint filed by a Telangana Congress MLA accused the ruling TRS of large-scale misuse of power in raising funds.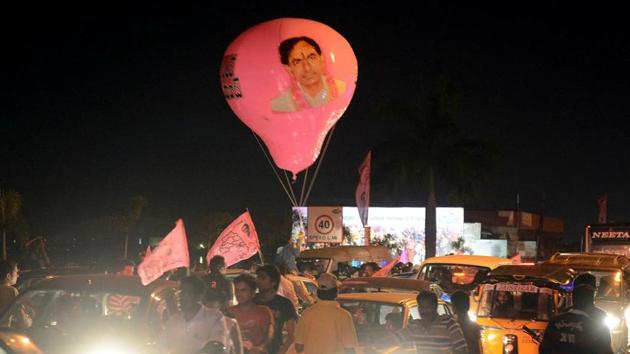 A "novel strategy" adopted by the ruling Telangana Rashtra Samithi to mobilise donations running into lakhs of rupees for the party's plenary in April last year has come under legal scrutiny.
The Delhi high court issued directions to the Election Commission of India to look into various ways political parties used to raise funds after a public interest petition filed by Telangana Congress MLA Anumula Revanth Reddy last week.
The court asked the poll panel to probe the complaint made by Reddy, who pointed out the large-scale misuse of power by the TRS in raising funds through unscrupulous methods in violation of the Prevention of Corruption Act, 1988, and the Representation of People's Act, 1951.
Revanth, in his petition argued that the TRS ministers not only made a mockery of the labour force by collecting huge amounts disproportionate to the quantum of their work, but also committed an offence under Section 11 of the prevention of corruption act, and said as public servants they cannot collect huge amounts in cash, which was unaccounted.
And by raising funds for the party through illegal means, the ministers had also violated the representation of the people's act, he contented.
The party's leaders observed "Gulabi Coolie Vaarotsvaalu" (Pink Labourers' Week) from April 14 to 20 last year to raise funds for the party plenary held at Kompally on April 21 and also a public meeting at Warangal on April 27, the party's foundation day, following a call given by TRS president and Telangana chief minister K Chandrasekhar Rao.
During the week, the minister played the roles of "coolies," doing manual work at different places and collected huge amounts of money from various organisations, institutions and individuals.
For example, IT minister K T Rama Rao (son of the chief minister) sold ice-cream and fruit juice at a bakery on Hyderabad outskirts for a few minutes and had collected nearly Rs 7 lakh rupees as "coolie".
KCR's nephew and irrigation minister T Harish Rao worked in a rice mill and "earned" Rs 6.27 lakh for his one-hour labour. Agriculture minister P Srinivasa Reddy worked in a cotton ginning mill and raised Rs 8.5 lakh and home minister Nayini Narasimha Reddy worked as a salesman for a few minutes at a saree shop in the city to earn Rs 29.52 lakh.
Similarly, excise minister T Padma Rao earned a whopping Rs 38.50 lakh by selling fish in a local fish market in Secunderabad. Finance minister Etela Rajender earned Rs 11 lakh by carrying a rice bag in a rice mill and health minister Dr Lakshma Reddy collected Rs 5 lakh for checking a patient's blood pressure in a corporate hospital in Hyderabad.
Deputy chief minister Kadiyam Srihari taught in three schools and collected Rs 5 lakh while another deputy chief minister Mohammad Mahmud Ali worked at a car showroom in Hyderabad for 10 minutes and pocketed Rs 9.60 lakh.
Several other ministers, MLAs and other party leaders also raised a huge amount as funds for the party plenary.